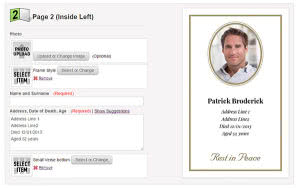 This post is meant to be a guide for print companies who wish to start selling print online using a web based personalisation system. While we ended up developing our own system in house, there is a number of systems readily available to purchase from various suppliers.
You can treat this post as a case study that may help you to make decision when deciding on what web to print solution to use. It is specific to memorial products like Memorial Cards, Acknowledgement Cards, Wallet Cards,  Bookmarks etc – but most of the information can be applied to any printed product you may want to sell online.
Existing system v self built – pros and cons
There are many benefits of going with an established software vendor. Ease of use from the owner perspective, ongoing support, technicalities are not a concern as they are delegated to an outside company. No need for an in-house developer (a note – some cheaper solutions do require a developer anyway – or you will have to pay a lot for each template).
On the cons side you are forced to use an existing workflow that in many cases is not suitable for your particular product range. Creation of templates may require special software. You cannot introduce custom functionalities – or if you can the cost is prohibitive, as this requires your vendor to create them for you.
Most of available web to print solutions cannot be self-hosted. This requires sending customers to outside website or incorporating the system into your own website using iframes or other solution. Also, this further restricts your ability to modify the look and feel of your site.
Also on the cons side – the cost of running the system may be high. The software is usually purchased on a subscription basis. It looks ok at first but it is a cost that will never go away. It may be years before you just break even while you keep investing in something you do not own. We know of situations when software provider went under leaving their customers with outdated buggy software that just stopped working.
Our web to print requirements
The range of features we required was broad. In fact it blows out of the water any existing software we could afford. Our current self-built system fulfils all our requirements. Here is the list of the most important features we needed:
ability to create templates without special software (preferably Adobe InDesign)
easy to use, intuitive web interface
uploadable images that will automatically maintain predefined aspect ration when cropped – to fit their respective spaces on a template without empty spaces
ability to crop images to any shape using vector or bitmap mask with transparency and semi-transparency (alpha channels)
ability to offer pre-defined vector and bitmap images to select from
solution aware of spreads, able to divide backgrounds into spreads, both predefined and user supplied
ability to use spot Pantone colours as well as CMYK values
layers
custom fonts
automatic text scaling based on predefined space on the template with optimal size setting
selectable text both single and multiline
solution working without Adobe Flash
transparency support on all personalisable objects
support for user selectable vector and bitmap layers, with transparency
user input validation in browser (saves page reloads, more intuitive)
online proofing aware of number of pages, showing booklet when needed
conditional objects – (if user provides an input, other object appears or disappears) – good for graphic elements that make no sense if there is not input – backgrounds, shadows etc.
reliable proofing system – each proof created from pdf file that will be used for print if approved
hi resolution pdf output with editable vector text, bleed and cutmarks
standard ecommerce store functionalities like cart, checkout, presentation of products, categories
Content Delivery Network support for images and other static elements
good caching support for speed
ability to introduce custom functionalities quickly
The above list does not cover everything but it should give you an idea of what we were trying to accomplish.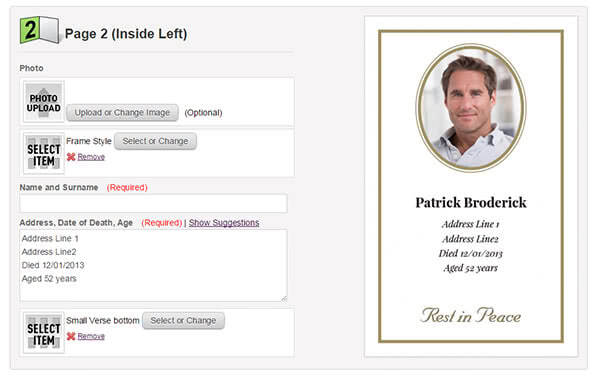 Our research and experience with web to print systems
When creating our Memorial Card online ordering system we did a good research to find an existing software. We had previous experience using two different online print personalisation systems.
One came from a small vendor (bordering unusable) and another one from a more expensive software firm – but it still would not tick even half of the boxes we need it to tick.
We also had experience trying to fix software from a company that suddenly went down leaving their customers in the cold. When something like this happens all the work you have done so far is gone. This painful experience was an important factor in our decision making process.
As you can see we were no newbies to the online print personalisation trade.
There is no good and cheap solution
When we started to look for a suitable solution we tried to accomplish the task of ordering Memorial Cards (and other printed materials) on a variety of websites. The conclusion was simple: they were a nightmare to use. Outdated, unintuitive, poor validation, slow, unreliable html based proofing – the list goes on.
Probably the easiest to use were the sites without online proofing system but we needed one in order to keep the cost low. Manual proofing means man-hours to pay for. We found solutions that were hardly suitable for graphic designers, not to mention ordinary customers.
The full online systems we checked out were either giving too much control to the people who would not know how to use it (they tried to replicate design software online) or offering very little flexibility and no explanation or help.
Instead of copying the success of others, we decided to learn on their mistakes.
Why we decided to develop in house
Our aim was to give our customers the best quality In Memoriam and Acknowledgement Cards that are easy to personalise and order online for people without technical skills. We also understood that ordering a memorial product is – thankfully – a rare occurrence.
We had to not only give the customer an easy way to order, but also guide them through the process and offer help with the content of the cards – as they may not be familiar with this type of product.
Existing solutions were either too expensive or not flexible enough for our needs. Please note that Memorial Cards are a niche product that requires individual approach in many ways. General print solutions for leaflets, business cards, posters, letterheads, canvass prints etc may be perfectly ok with an existing cheaper solution.
Due to budget constraints, we were facing a choice between cheaper existing software that would not fulfil our needs, or building our own system that will require initial investment and may potentially be expensive to run.
Having experiences mentioned above, we decided to take the plunge and develop our own software. It took our developers a couple of months to present first working version with minimal acceptable set of features.
Since then we have been updating our software and adding new functionalities as they became necessary. For example ability to offer free downloadable Memorial Cards took us 2 days to develop, test and implement on production site.
The video below shows our workflow. It is slightly outdated and it does not show current state of the software.
Some ideas we had before and during development
We came up with the idea that a card should be broken up to individual pages and personalised one page at the time. Visual clues were set in place to inform the customer what page they are editing and what element of the page is being edited.
After some testing and prototyping a system allowing to quickly select pre-defined backgrounds, frames, verses, content, headings and type in only when absolutely necessary became our goal.
A side effect of this approach was improved variety of our design listing pages. Scanning our competitors' websites we noticed that while they appear to have a lot of designs available, these designs are very similar to one another.
They listed the same design 10 times with only difference being background image or colour.
Instead of cluttering product pages with multiple variations of the same design we just show a base design with an option to see all available variations. Later on we added ability to automatically generate all available variations.
It is simple to calculate that if we have only 20 memorial card designs and each has just 10 background variations we end up with 200 products. This means 10 pages containing 20 designs each with little variation that customers will have to browse through.
What if you have a 100 designs with 10 backgrounds each? Will the customer browse through 50 different pages? More than likely they would give up after a couple of pages and go looking somewhere else. See one of our listing pages here.
Instead of categorisation that would help the problem a little (floral cards, Celtic, scenic, religious etc) we prefer to show all the designs we have in a compact way. We just enable users to find what they want without narrowing down their choice to a certain category. It is really impossible to guess what the customers will like.
Initial version of our software did not have clear "approve for print button". It just had a way to checkout. We introduced the approval button later to allow the customer to clearly commit to the final version. It also helps to see if all products in the cart have been approved for print or if they require further action.
Early into the project we decided to hold on to standard ecommerce experience. People know how to shop online and removing any guesswork is always a plus. So, we built our unique features on top of a standard existing ecommerce software.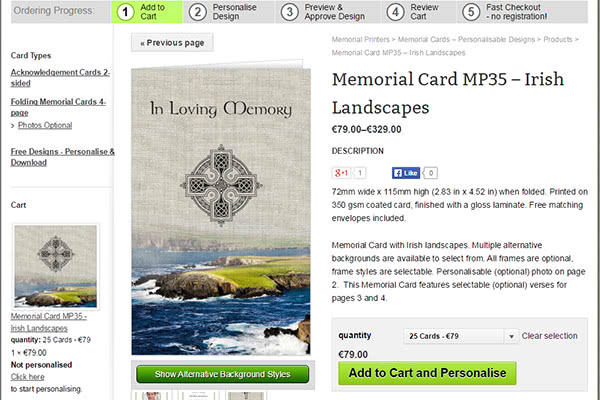 Mistakes we made
Certainly our biggest mistake was not making our system mobile friendly from the very start. We were working on assumption that mobile screens are too small to accomplish the task. It was a handy excuse to cut off a good bit of work that we considered non-essential.
While the above assumption may be true, lack of mobile support is bound to start hurting our search engine rankings at some stage. The decision to struggle on a small device or switch to a bigger one should be left to the user.
Advice for self-builders
Get good developers. Do not look for cheap ones, guys right after college, some outsourcing company from a far off land, smart son of a friend – they will not cut it. They will make mess and then disappear when it becomes clear your project is going nowhere.
Print personalisation requires web developers with print production experience. They have to understand print technology, terminology and technical aspects of designing for print. Those people are rare but can be found.
Have an in house developer, at least during the initial stage of your project. This makes it easier to prototype and test ideas. Apart from that you will need somebody to train designers in use of the software.
Be aware that developing your own software caries much more risk that buying existing one. If you develop you are effectively becoming a tech startup. Those are not the safest type of investment.
Developing custom web to print software just for one website is not cost effective. If you have no plans to expand beyond certain niche, you should think twice.
It will take a lot of time before you start making any money off your software. When the software is ready the fun marketing part begins. If you are not prepared to finance the project for a year – better reconsider.
Leverage Open Source software. We could not build our system without it. Don not reinvent the wheel – focus on features that are unique to your business.
Are we happy with our solution?
The short answer is yes. The solution works now on a couple of websites and we receive positive feedback from our customers. In our memorial niche ours is the most advanced and easiest to use solution in Ireland.
Being able to quickly modify our workflow and introduce new features trumps everything else. Instead of hacking existing system to make it do more or less what we want, we simply modify our own system to fit the bill to the letter. This gives us a competitive edge and ability to quickly respond to the changing market and customers' demands.