Here you will learn everything you need to know to not only order memorial bookmarks, but also to be actually happy with the final product once it arrives at your doors.
If you would like to order bookmarks you can jump right into it by browsing our personalisable designs. We have a full online ordering system so you can enter information, add your photos and see your card before you order. If you require more information first – please read on.
Click the above button to start ordering your memorial bookmark. Select design, verses, upload photo and add text (text suggestions provided). Then view online proof and order – fast and simple.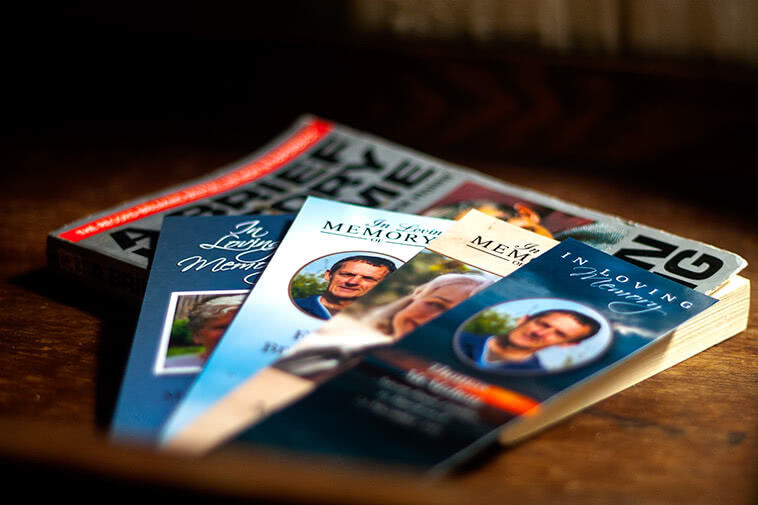 We offer two types of bookmarks – personalized online and custom designed.
Both are physically the same product offering the same quality.
In a nutshell:
– Bookmarks personalised online: you order through our online personalization system by personalising one of our predefined layouts/templates.
It is cheaper and usually much faster option. You can try multiple designs in the privacy of your own home until you are happy.
– Custom Designed Bookmarks: you work with our designer to create a fully custom design. Proofs are exchanged by email until you are happy with the design.
To order custom bookmark please email your requirements to memorialprinters@outlook.com and we'll take it from there. More about custom designed bookmarks below.
Detailed information about both types of bookmarks below: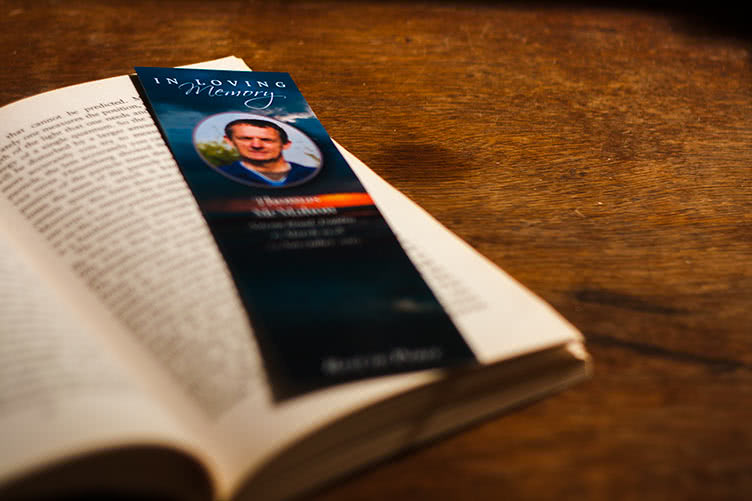 Memorial Bookmarks Personalised Online
You use our online personalization system, enter name, dates, select verses, add photos, card style etc. Then you review instant online proof and order your bookmarks. A few example bookmark designs below (a hint – "view background styles" button will show you different styles without leaving this page):
The advantages are:
lower price
simple to use, take your time and try different designs, backgrounds etc.
instant online proof, no waiting for the designer to come back with changes
you are personally involved in card design
Prices are as follows:
Prices – Memorial Bookmarks ordered online (double sided)
| Quantity | 25 | 50 | 75 | 100 | 150 | 200 | 250 | 300 | 400 |
| --- | --- | --- | --- | --- | --- | --- | --- | --- | --- |
| Price |  €79 |  €119 |  €159 |  €179 |  €219 |  €249 |  €279 |  €309 |  €384 |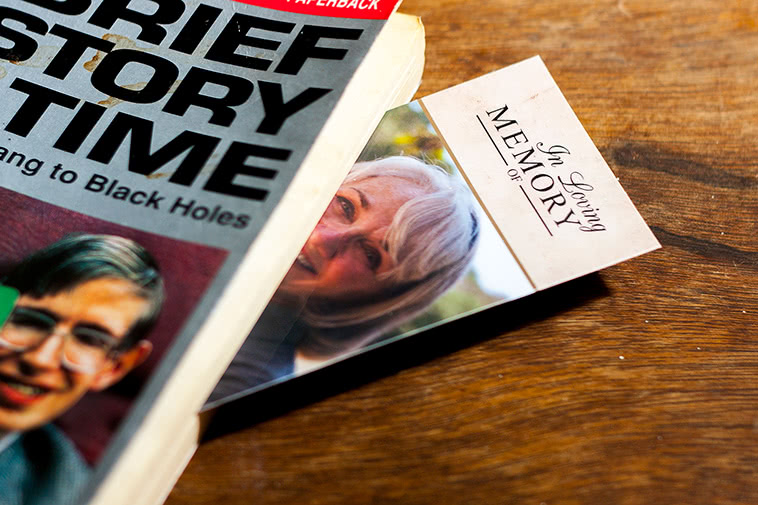 Custom designed memorial bookmarks
You send us your desired text and images and our designer creates a unique bookmark for you. Proofs are emailed, your amendments are introduced and re-proofed as needed until you are 100% happy with the result.
Usual response time to your amendments is within 24 hours so the design process is smooth and fast. To start just email us at memorialprinters@outlook.com or use the live chat facility – we'll guide you through the whole process.
Prices – Custom Designed Memorial Bookmarks
| Quantity | 25 | 50 | 75 | 100 | 150 | 200 | 250 | 300 | 400 |
| --- | --- | --- | --- | --- | --- | --- | --- | --- | --- |
| Price |  €109 |  €149 |  €199 |  €209 |  €249 |  €279 |  €309 |  €339 |  €404 |
Here you can see our full price list of all our products in one place.
Advantages of custom design are:
the design is unique and you are free to realise whatever idea you may have
you deal with an experienced designer
any images supplied can be significantly improved by the designer
How do typical memorial bookmarks look like?
The typical bookmarks take form of narrow strips of laminated card. Their dimensions can vary as every print company would have their preferred dimensions  – we use 58x190mm (2.3″x7.5″). The standard orientation of the bookmark is nearly exclusively upright/portrait. Below you can view a few photos of memorial bookmarks. We never use real bookmarks as samples or for advertising so the photos of the people depicted below are stock photos and all information on the bookmarks is fictional.
Typical bookmark design types
Memorial bookmarks' designs usually fall into one of these categories:
Scenic – the design would incorporate images of beautiful nature. Sunset images, sea, beach, mountains would be the most popular themes.
Religious – they consist of religious symbols and imagery
Celtic/Irish – those incorporate Irish style ornament and also Celtic crosses.
Personal – other quite common designs are those associated with life, profession/trade or hobby of the deceased. Images of the locality the person lived in, sports the person enjoyed, favourite places, flowers etc.
Content
Typical wording of the bookmark would be as follows:
Front of the bookmark
In Loving Memory of
Name and Surname
Who died on 19/03/2015
Aged 61 years
Rest in Peace
Back of the bookmark
The back usually contains a verse, a poem or a prayer. When choosing these you need to remember that the bookmark is a narrow strip. Not every poem/verse would fit into it. Too long verses would become illegible because in order to fit them in the text size would have to be very small.
Of course do not worry about it – the designer will show you how the verse fits and tell you if any legibility issues arise. Pick what you think that should be there and let the designer try and fit it best.
Design considerations
While thinking of design for the bookmark it is important to consider its shape and limitations that this shape has. If you want to use a photo as a background you have to be aware that only a small portion of the photo will be used.
The good news is that even cropped into a narrow strip scenic photos look very well. So photos showing seaside, locality, some rural scenery etc. usually can be used without any problems and produce pleasing result.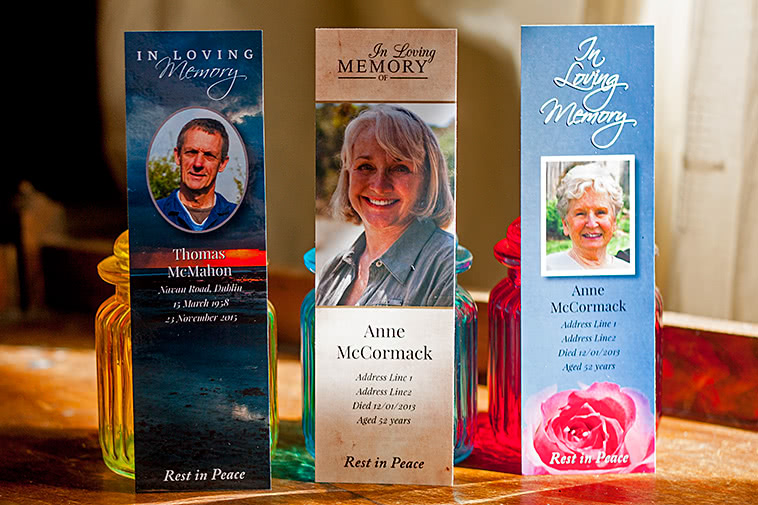 The photo of the deceased is also often used on the front of the bookmark. In such case it usually is not occupying the full size of the bookmark, but appears in a frame on the front. This helps to overcome the constraints of the bookmarks' format.
Please note that it is perfectly ok to create a bookmark without any images. Also, if creating a custom designed bookmark you do not have to provide images if you do not have them – we have an extensive library of stock images suitable for backgrounds and our designer will pick ones suitable for your design.
It is also a good idea to ask family and friends for photo ideas to use on the bookmark. These days everyone has a camera in their phone so the photos of even very specific places can be obtained quite easily.
If you are supplying us with images for custom design please make sure you give us the highest resolution / best quality available. We can really do a lot to improve the photographs as long as there is enough resolution in the file. Please do not use any visual effects or filters built into phone photo apps. While they may  be tempting to use, they usually do more harm than good, at least in the context of memorial bookmark and photo quality for print.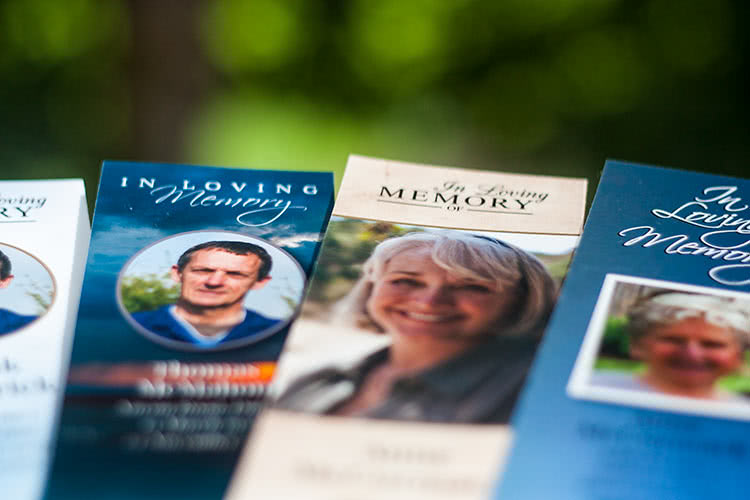 We understand that nobody is creating a perfect portrait photo for use on memorial bookmarks and most of the photos of the deceased we get are shot on random occasions using random cameras or phones. Giving us full and uncropped versions of these files greatly improve our chances to make them as good as it gets.
Again – do not use any filters, if you need certain look let us do it.
Memorial bookmarks' ettiquette
The bookmarks usually accompany memorial cards – so they are usually done a year after the funeral. However, we have customers ordering them at different points of time so using your own discretion is advised. Remembering your loved ones is a personal thing and it would be hard to give it an exact timeframe. "When you are ready" is probably the best advice – and this is the advice we give when asked.
Pros and cons
Pros:
They are the only keepsake apart from memorial keyrings that can be put to a practical use
They are well know type of keepsake
They offer more space than wallet cards
Due to lamination they are durable
They are likely to last for a long time
A long verse or poem can be used
Cons:
Fewer and fever people read paper books nowadays – so they can be really appreciated mostly by those who do read real books
Too big to be carried in a wallet
Prone to damage due to their shape
If you have any questions or would like to order custom memorial bookmarks please do not hesitate to contact us now. For immediate response please use live chat facility.