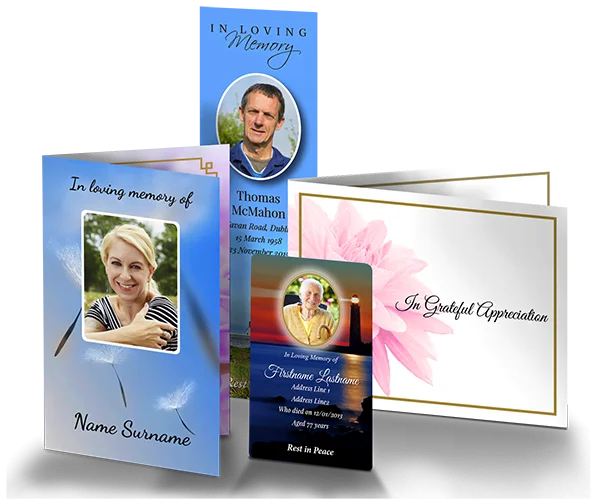 We print quality memorial cards, acknowledgement cards, wallet cards and bookmarks.
We made it simple to order Memorial Cards Online. First, select a design you like. Select verses, upload photos, add text and see instant online proof.
Order Memorial Cards Online
Order Custom Designed Cards
Ordering Process
1. Select a Product
Select product type below.
2. Pick Your Design
Select one of our template designs. (or request a custom design)
3. Personalise
Add photos, text & review proof.
4. Checkout
Fast no-registration checkout.
You can use our online designs as a base. Select a template, finish what you can online and request any changes (by email or in custom verse/message field on checkout). We will do the changes from our end and email you a proof for approval.
Example Memorial Card
In the video below you can see example memorial card printed by us.
The above is one of our online template designs. The video should give you a fairly good idea about the look and quality of our cards.
For more videos showing our memorial cards, click here.
Also, all of our online designs have videos showing layout with different background version. They will let you see details of your choosen design in a more three-dimensional fashion. Example video below:
We offer two ways to order your cards:
Personalise Online Design
(90% of our orders)
You create your card by yourself using our online system. Add photos, text, select verses, see online proof and order your cards. No design skills required. Text suggestions/help offered throughout the process. Start below.
Custom Design Order
Our graphic designer will design the card for you from scratch. All you need to do is email us your photos and text. We will do the rest. Unlimited proofs, we tweak until you are happy. For details click here.
Welcome to Memorial Printers
We specialise in design and print of high quality Memorial Cards (In Memoriam cards), Wallet Memorial Cards, Memorial Bookmarks, Acknowledgement Cards (also – Funeral Thank You Cards) and Memorial Keyrings. We offer selection of memorial card designs you can personalise online.
Just upload your photos, add or select pre-defined text, preview your card and order online. The whole process is simple while giving you a lot of control over the look of the card.
If you require a unique memorial card design, we welcome you to work with our designer to create fully custom one. In such case please ring us or contact us through contact section.
Please read this article to find out more about quality of memorial cards we print.
Order Memorial Cards Online
Our online system is easy to use – just fill in your information and upload photos. The system tells you exactly what page and part of the card you are editing and offers content suggestions.
Also, you can choose from a broad range of predefined backgrounds, verses and frames to create a design that suits you best.
After entering all your information you will be able to see high resolution proof so you can make sure everything is exactly the way you want it. You can then proceed to order or make changes to your design.
To order online just browse our designs, pick one, personalize and order online.
Latest Memorial Card Designs
You can personalise and order these designs online. Add photo, text, select verses and review instant online proof. View all online designs here.
Personalise and download Memorial and Acknowledgement Cards for free​
Even if you can't order your cards from us for some reason, we can still help you. We offer free designs of memorial and acknowledgement cards. You can presonalise them and download in high resolution print ready pdf file. Then you can just give the file to your local printers and get your cards done with them. Full power of our online system is here for you to use – completely free. We are the first company in Ireland to offer such facility. Even though we are small, we give what we can to those who may need it – especially in a difficult situation of going through a personal loss.
Why Choose Us?
We specialise in Memorial Cards and we do not do any other kind of printing work. We process many orders and have experience and skill to guarantee the highest quality. All our design and printing is done in Ireland. Our online personalisation system is custom built for memorial stationery. It is very likely to be the most advanced solution of this kind in Ireland. Our prices are very competitive. We offer free delivery to the Republic of Ireland, Northern Ireland, UK and whole EU.