Last updated November 19th, 2020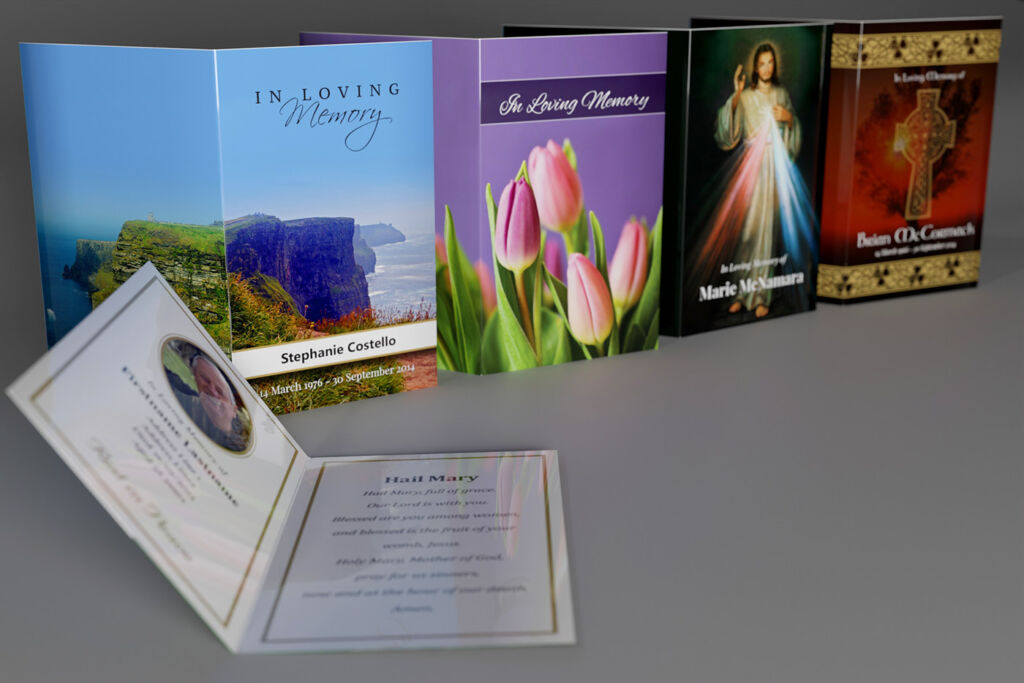 Here you will learn everything you may want to know about memorial cards. To order right away please click on green "View memorial card designs" button below.
You can also email us (memorialprinters@outlook.com) to request a fully custom design.
If you require more information, are looking for pricing, dimensions, verses, etc – please read on.
Watch the video below to see how to personalise and order one of our online memorial card designs.
Dimensions, Layout, Printing, Paper & Finish
Standard Memorial Card Dimensions
Standard dimensions of folded memorial cards are 72mm/2.8″ wide by 115mm/4.5″ tall.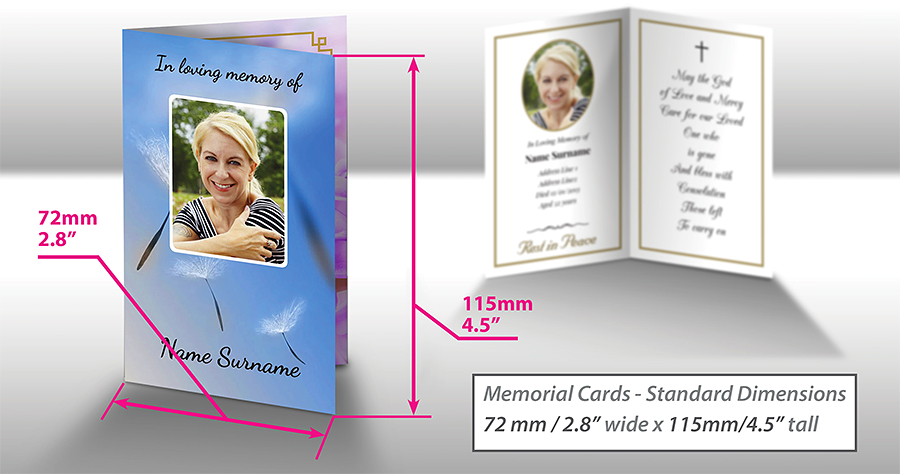 These sizes may vary by some small amount depending on in-house workflow of a particular print company. If you want to create standard, typical memorial cards – you are perfectly safe by going with the above dimensions.
Typical Memorial Card Layout
Memoral cards have 4 pages and fold in half. They feature photograph of the deceased, information like date of death, age, address (usually town and street, full address is not required). For women maiden name is often given, e.g. Mary Burke née Kelly.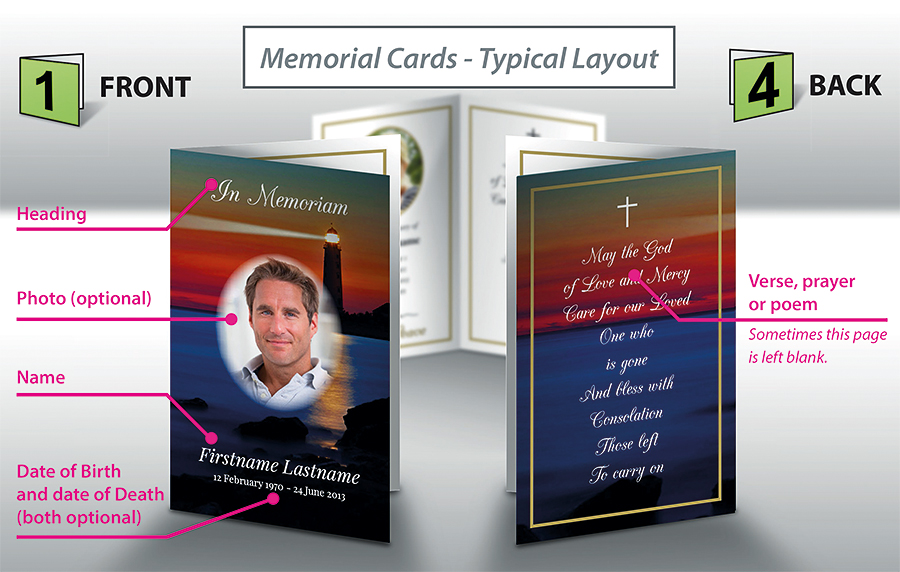 Prayers, verses and poems are commonly used as well.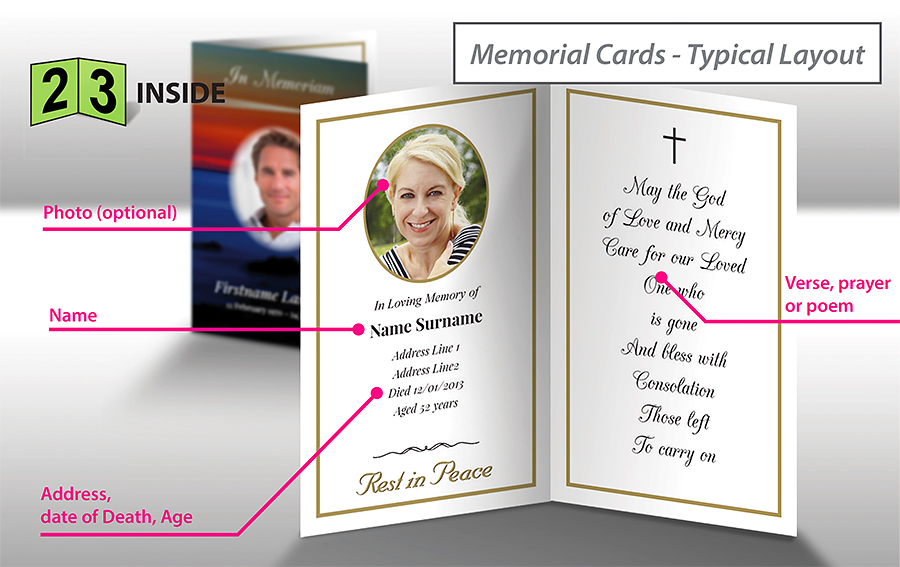 As you can see the whole design of a memorial card can be broken down to less than 10 elements – and many of those are optional.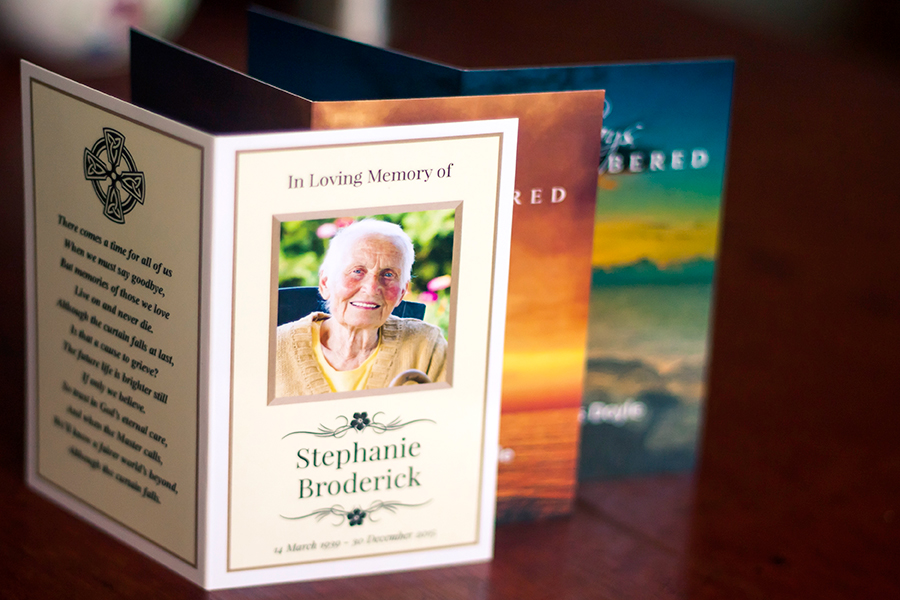 The video below shows standard design of a memorial card. Skip to 1:00 to view layout details.
Printing, Paper & Finish
Nowadays all memorial cards are printed digitally. This makes them very durable even without any extra finishing. Digital printing paper is always heavily coated. It is almost like a sheet plastic itself, especially gloss version.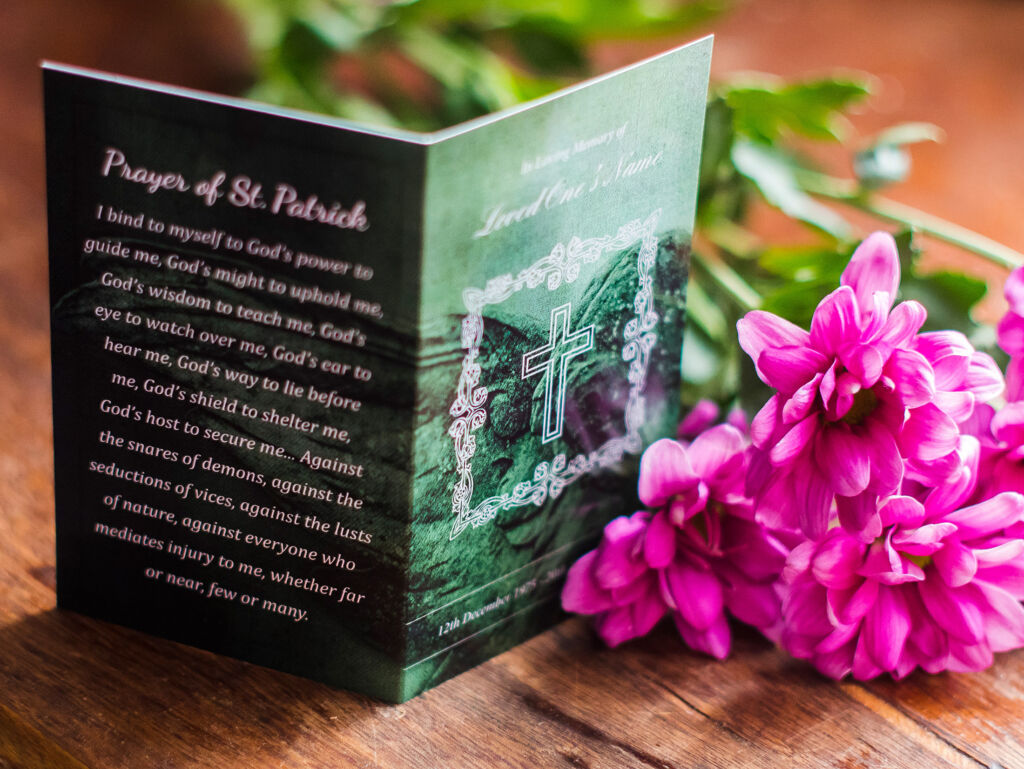 The paper used for printing memorial cards is about 300 gram per square metre (GSM). You may ask why not 400 or heavier? The answer is simple – heavier paper would not fold – memorial cards are folded.
Toner that is used by digital printing press is in fact plastic too. It consists of tiny plastic particles that form image on electically charged drum and then they get fused to the paper in high temperature.
So after printing we have already very durable print. Laminate (plastic finish) comes on top of that. Lamination gives memorial cards their shiny / glossy look. It also greatly improves durability of the cards.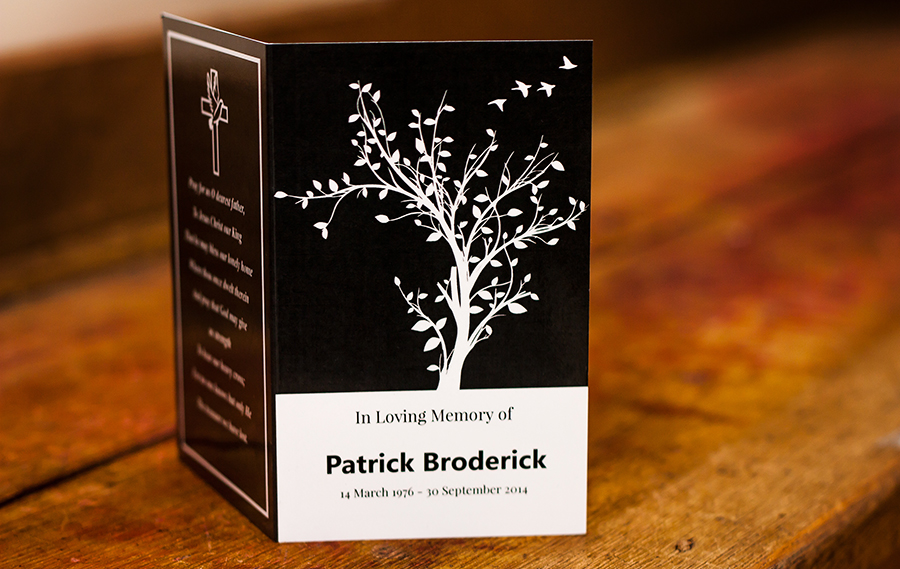 The last step is creasing. Creasing allows for clean, crack-free folding of the cards. Without it the spine would crack (digital prints are prone to this) and laminate would get separated from the paper around the spine.
Your takeaway from here should be that you should not worry about durability of the cards.
Hint – things like delamination or cracks around card spine are telltale signs of printer's poor workmanship.
Envelopes for Memorial Cards
If you are ordering from us then you do not need to worry about envelopes. We include matching envelopes with all orders.
Typical envelopes used for memorial cards (we use these) are 95x121mm (3.75″/ 4.75″). They are plain white. The paper's weight is 100 GSM.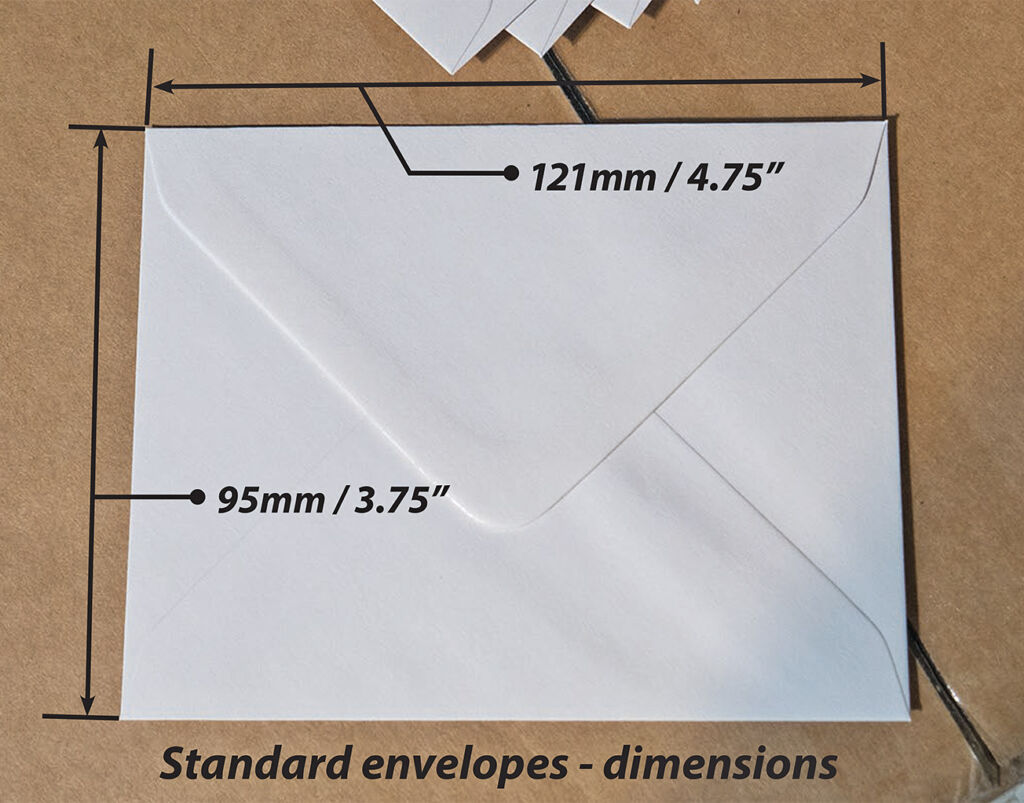 Folded memorial card fits perfectly into such envelopes.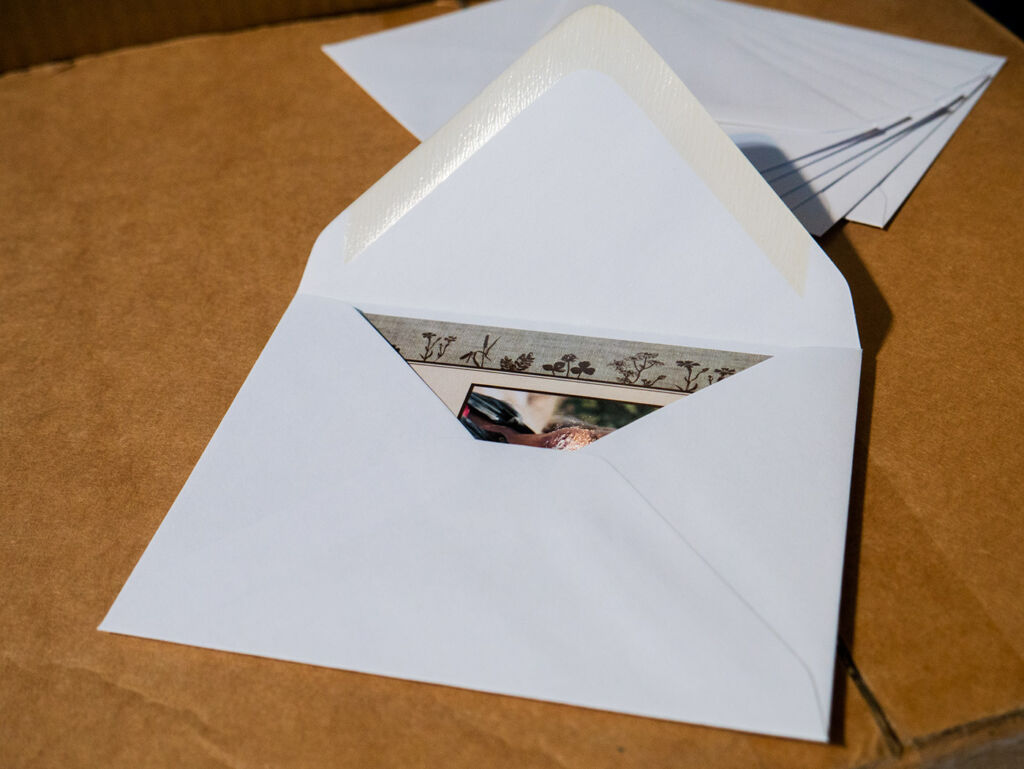 If you are looking to buy envelopes for memorial cards, it can quickly become a frustrating task. Such envelopes are becoming increasingly difficult to source, especially if you are looking for smaller quantities.
This may be because of their limited use.
In Ireland there are 2-3 wholesalers who stock them (you may have to buy packs of 1000). Some UK suppliers sell smaller quantities.
If you search on Ebay you may get lucky but unfortunately prices may be high. Getting them on Irish Ebay will be difficult or impossible. This means paying extra for delivery from the UK – and waiting longer to get the envelopes.
The closest readily available and cheap envelopes are C6. They are slightly too large (see size comparison below), but usable in absence of correctly sized envelopes.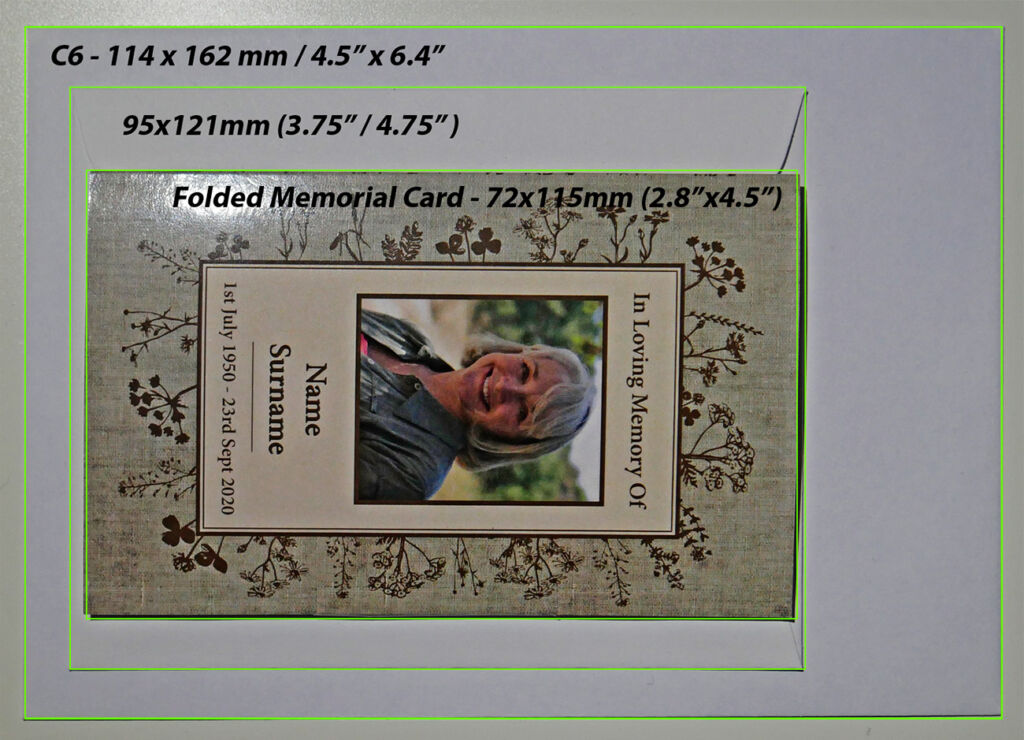 Unfortunately flat (unfolded) memorial card will not fit C6 envelope as it is slightly too tall (card: 115mm tall – C6 envelope: 114mm tall).
Important Card Design Elements
Card Headings
While not mandatory, most memorial cards use some sort of a heading on front page. Usually it just says "In Loving Memory". There are however other suitable headings too – and our customers do use them when ordering the cards.
Below you can see some of the headings we use (they are available when you personalise our online designs):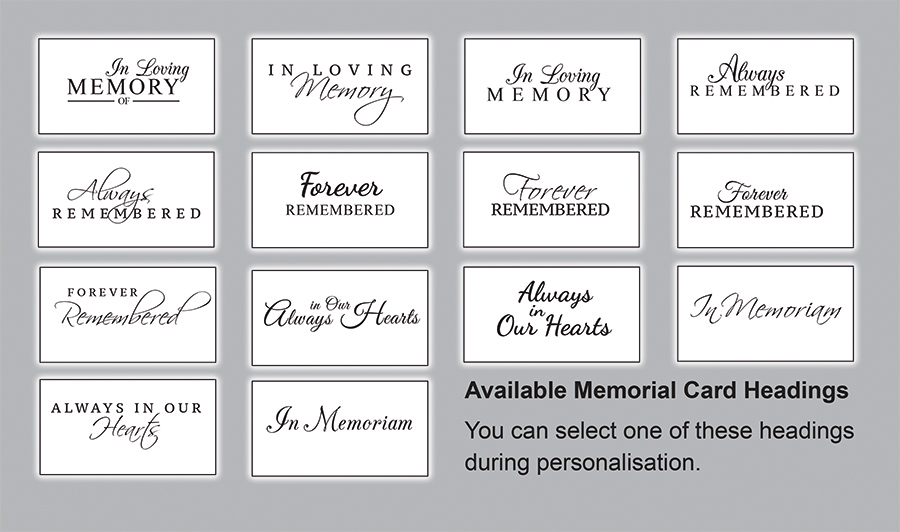 As you can see apart from "In loving memory" you can also use "In Memoriam" (popular one), "Forever Remembered", "Always in our Hearts" – all those are perfectly valid headings.
You can also use word "Remembering" followed by the name of the person, e.g. "Remembering Janet", "Remembering Mike" and so on.
Verses and Poems for memorial cards
Below you can see our collection of poems and verses. These verses are pulled automatically from our personalisation system.
You can consider this to be a collection of most popular verses – we compiled it over years and it is heavily influenced by what our customers wanted. Please note that this list is most accurate for Ireland, as we are located here.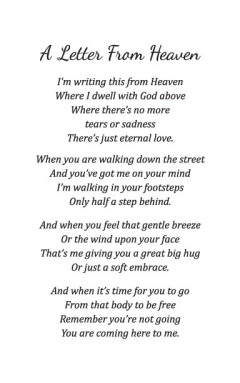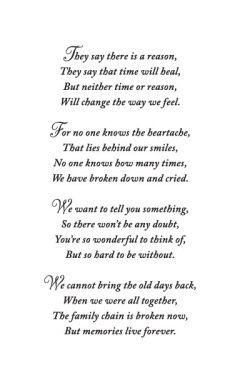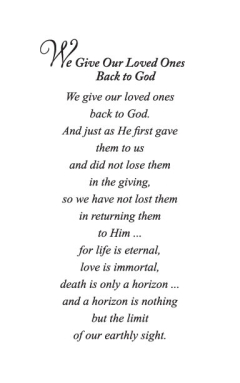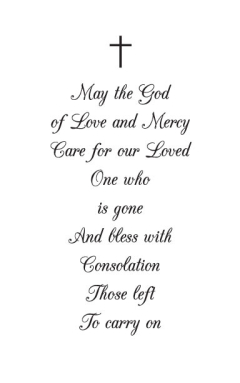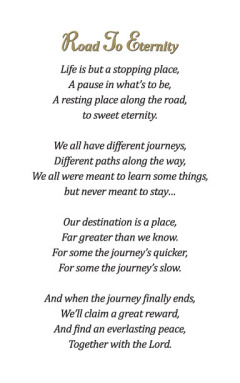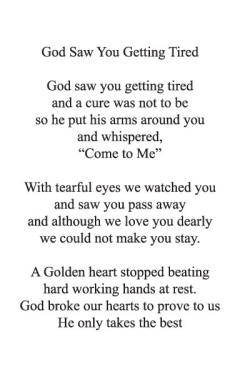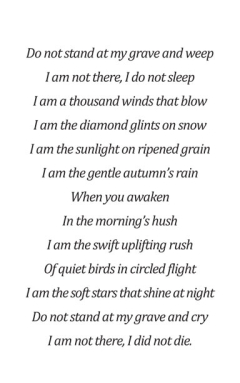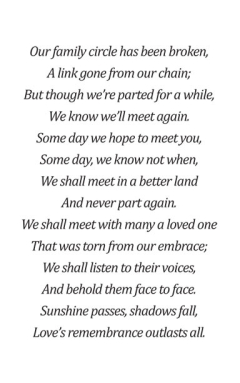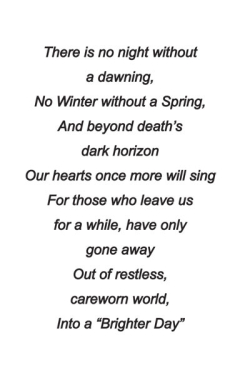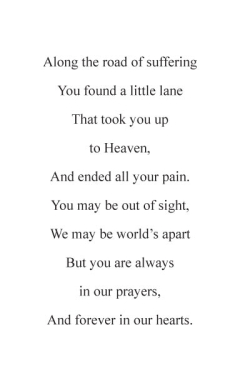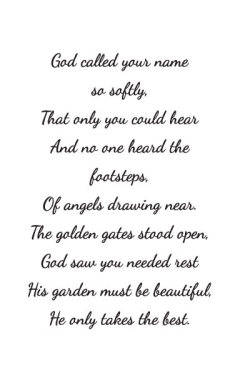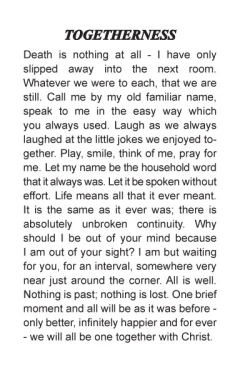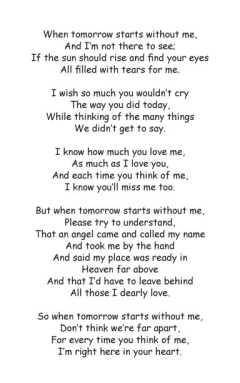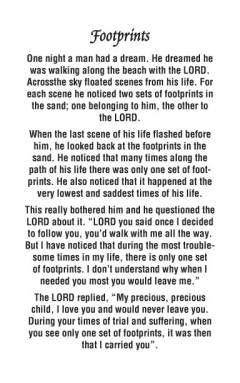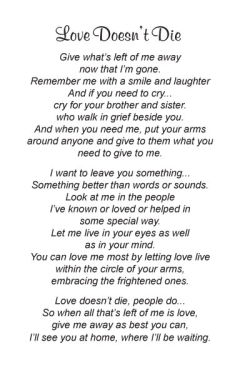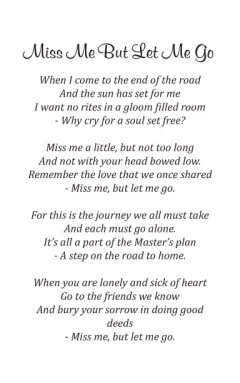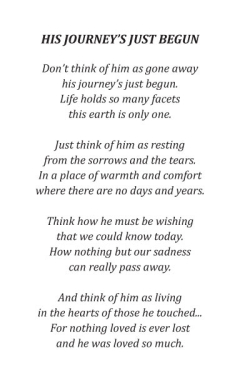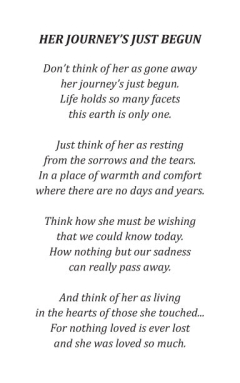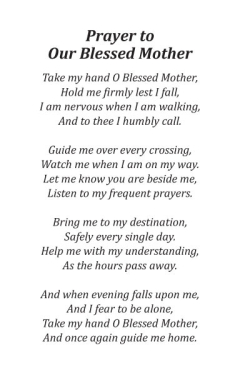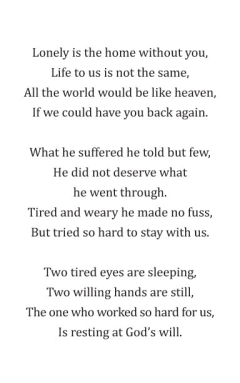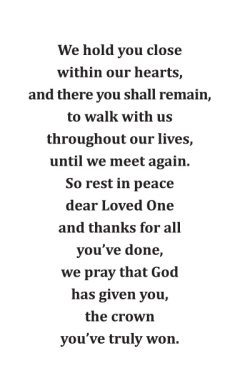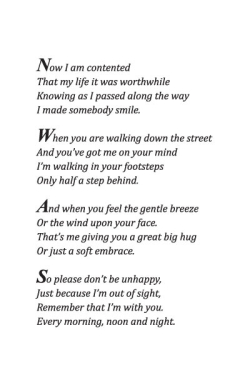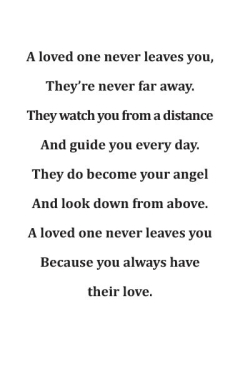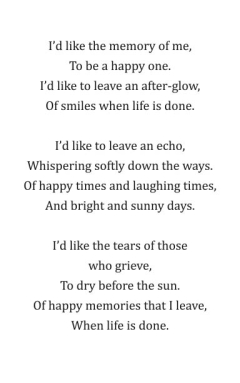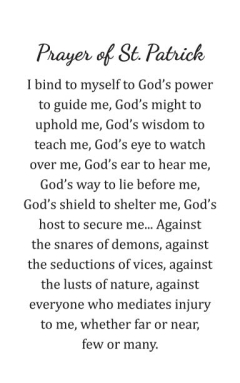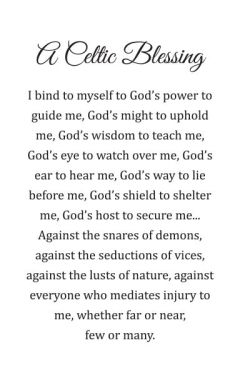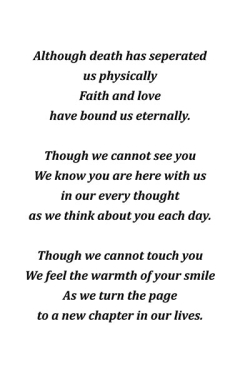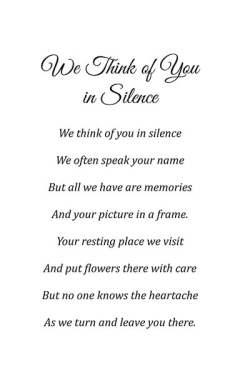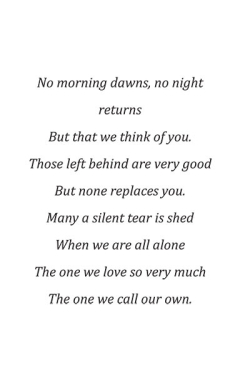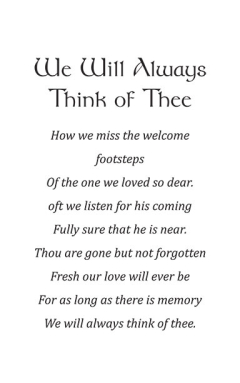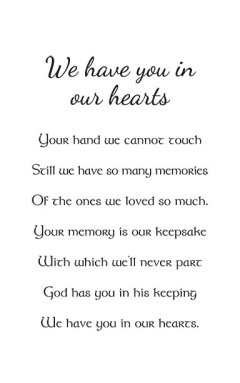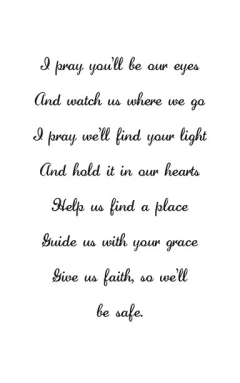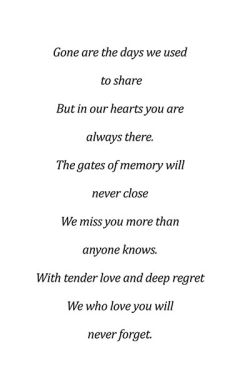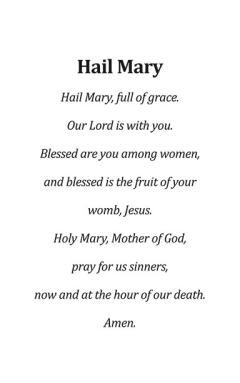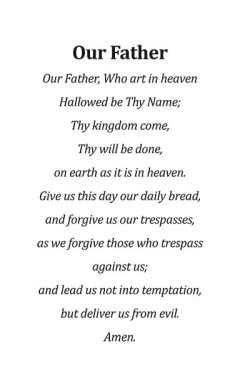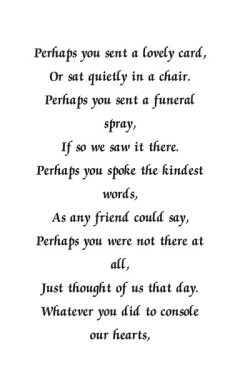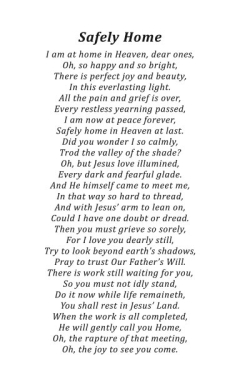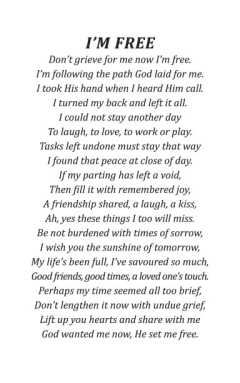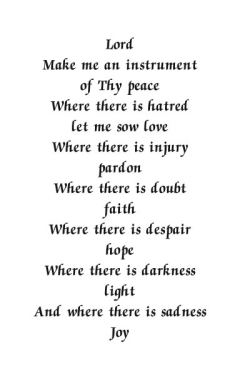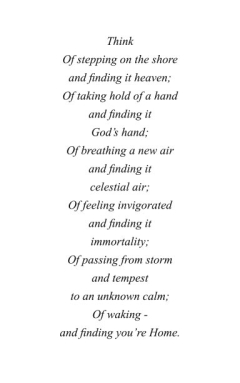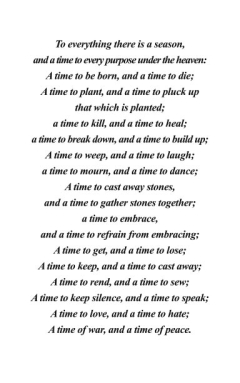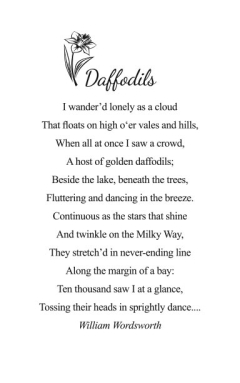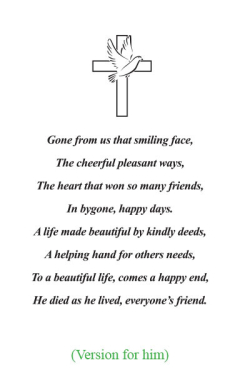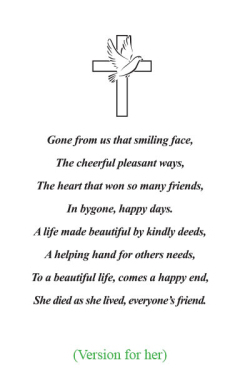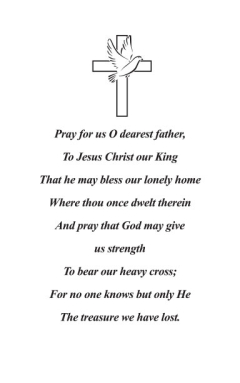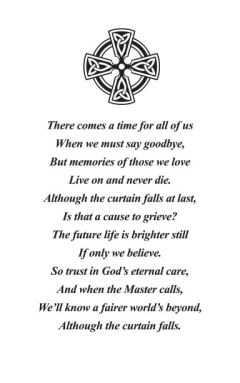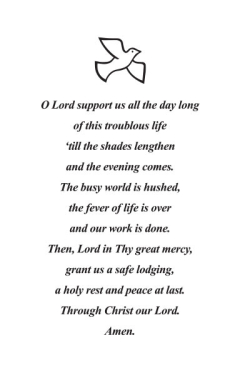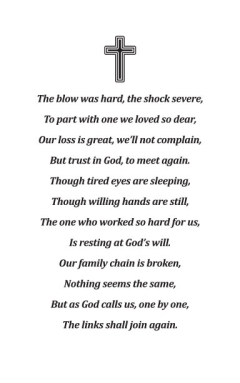 You are not limited to our verses. We insert custom verses free of charge, just select custom verse option during personalisation.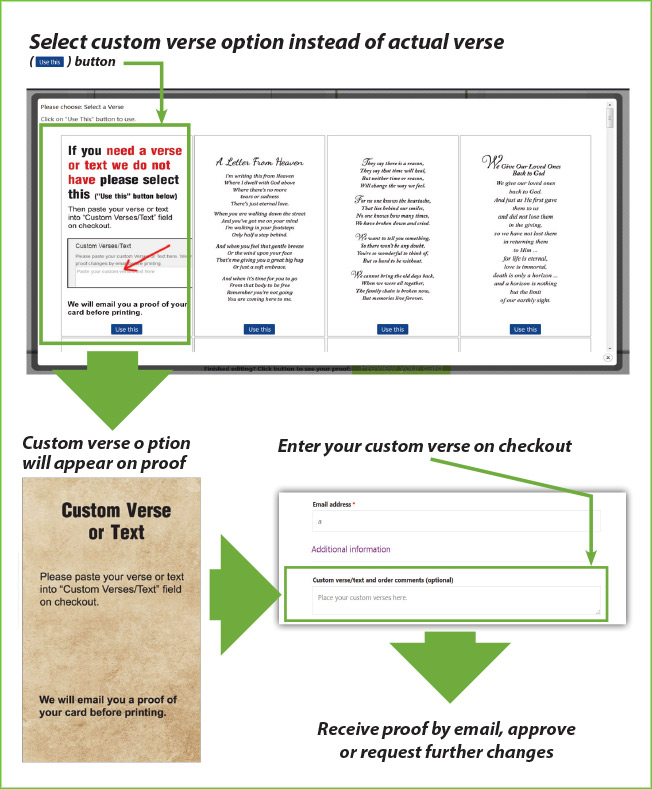 Backgrounds
Typical memorial card backgrounds
Backgrounds play important role in memorial card design. The backgrounds usually fall into one of those categories: Scenic, Floral, Religious, Celtic/Irish.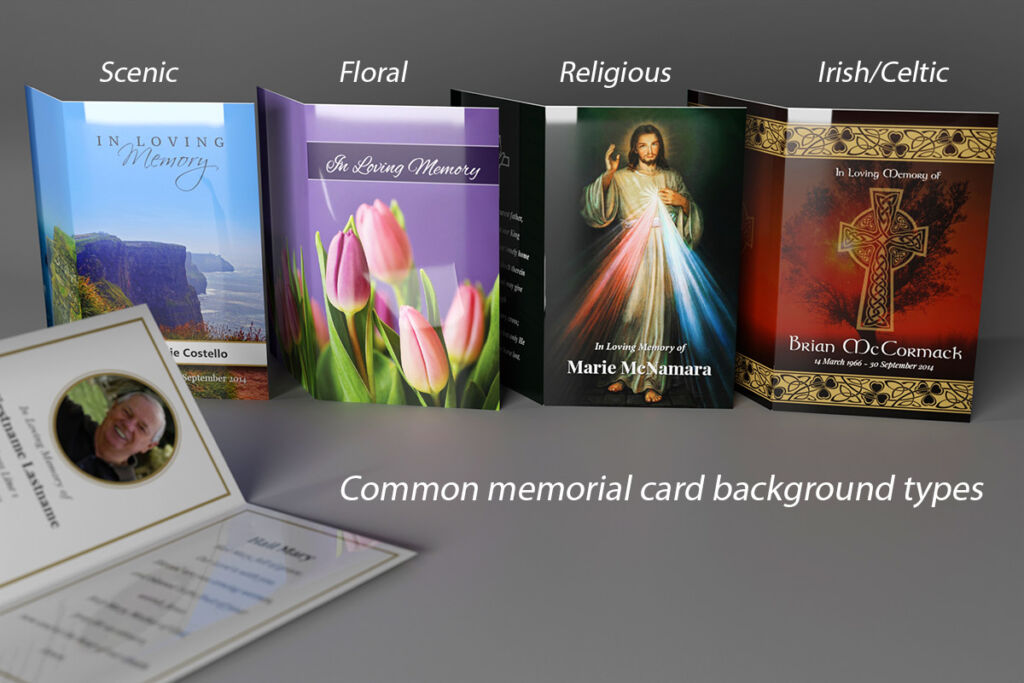 In custom designed cards backgrounds related to the deceased can be used. Those show locality, hobby, sport, occupation etc.
Our approach to backgrounds
Many memorial card companies count background change as a separate design. This leads to flooding their product listings with designs offering no variation apart from the background change.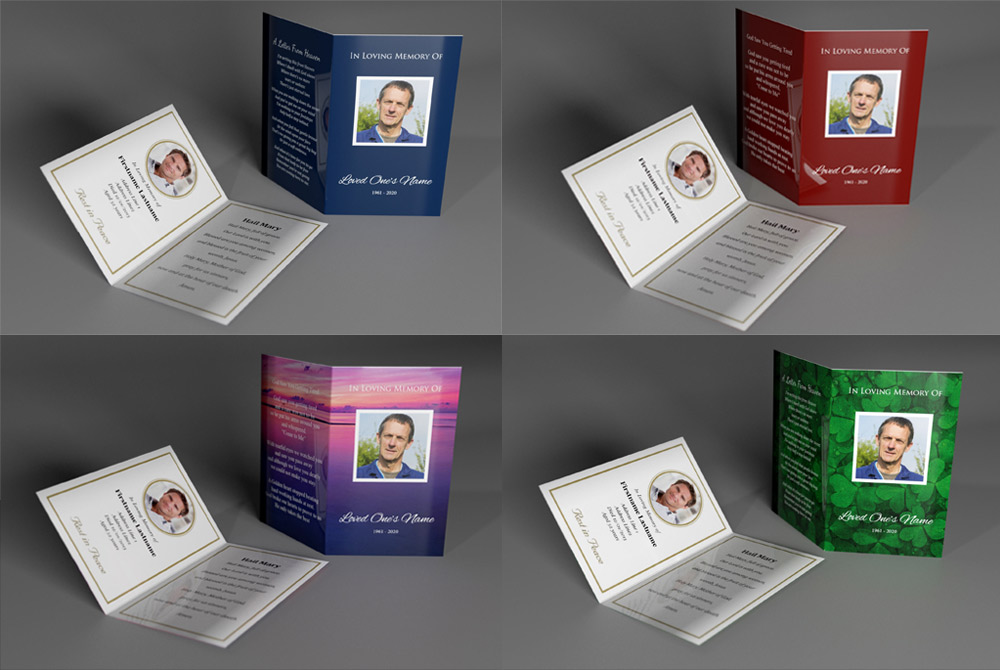 Our approach is different – we present you the simplest version of each design and let you see backgrounds that can be selected to further customise the card. This is achieved by adding "Show All Background Styles" button to our listings.
Video below can illustrate how background choice changes the look of the card (this example is MP60 memorial card design).
Quickly find a layout you like – then customise it further by choosing a background. This is our own unique invention, no other memorial card company (in Ireland or elsewhere) does it.
If we did things like everyone else, you would have to wade through more than 30 pages with 50 almost-same-looking designs on each. Most people would not get even half way through.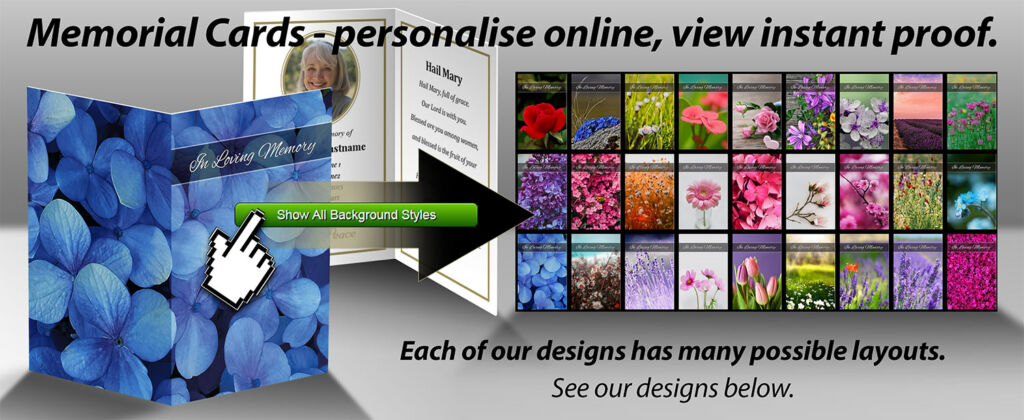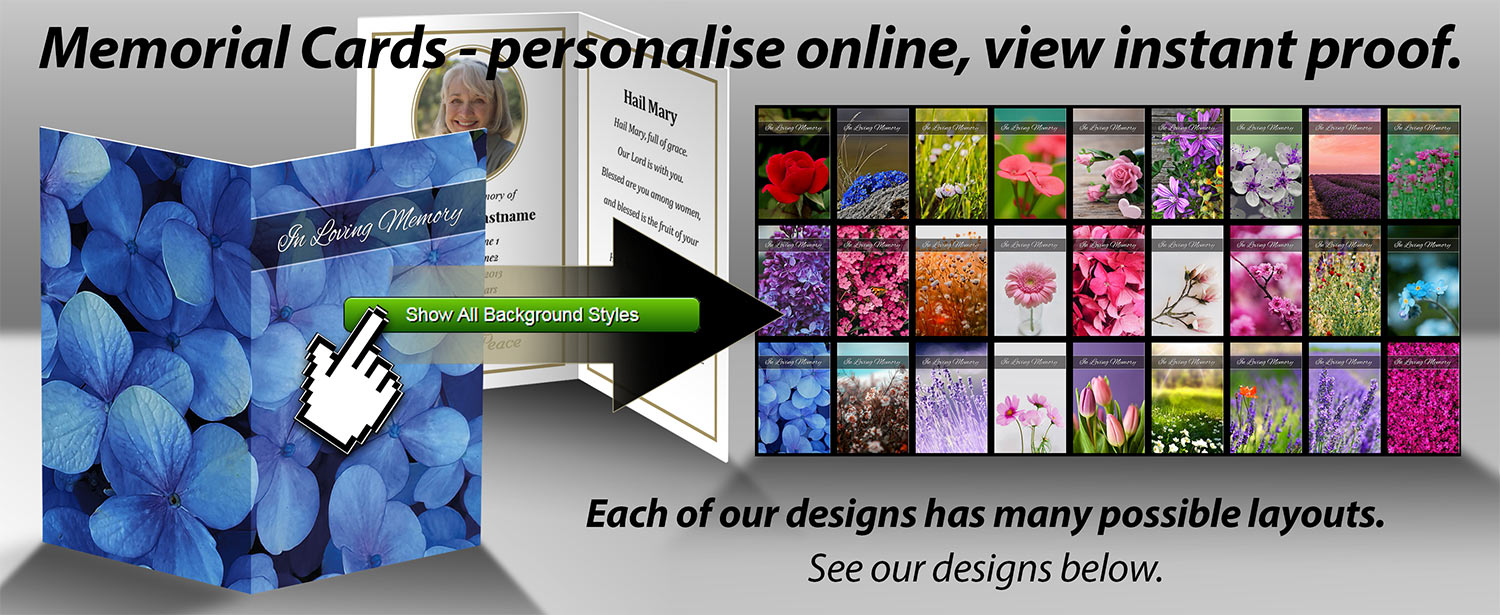 We believe this way we make it much easier to select a design template and offer rich choice without overwhelming and boring our clients.
Our approach also lets us add many backgrounds at any time without flooding and diluting our product listings.
Moreover – it takes precisely three clicks (about 5 seconds when you get the hang of it) to test your personalised card with different background. You do not need to imagine how would your card look like with different background. Instead, you can see the card right away with your own photos and text.
This lets you make a better choice. All in the privacy of your own home, without waiting for a designer to respond.
Order Cards Online – Our template designs
Below you can see our popular personalisable designs. To order just pick a design and add your text & photos.
Show how to personalise & order video. (shows in an overlay without page reload).
Image Gallery
Photos show printed samples of our online template designs.
Video Gallery
Videos below show our personalisable memorial card designs.
MP17 – Start personalising this design here
MP-02 Click to personalise this design.
MP-04 Click to personalise this design.
MP-31 Click to personalise this design.
Prices
All prices include delivery and envelopes.
Memorial or in Memoriam cards – is there a difference?
To answer this question quickly – there is no difference. Both terms refer to the same thing, cards that are printed in memory of a deceased person. These cards contain date of birth, date of death, may include information about relationship with others like beloved wife/husband, mohter/father etc.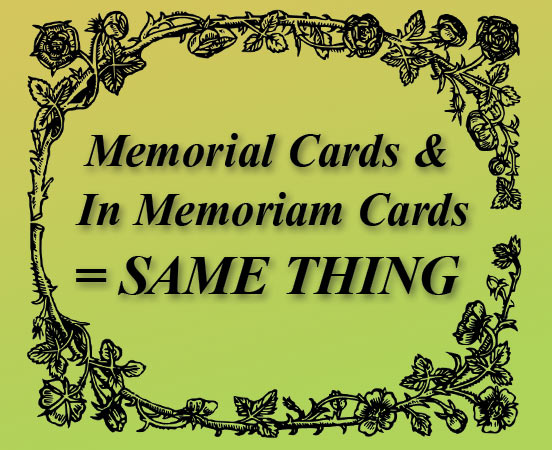 The term "In Memoriam" comes from Latin and means "in memory" or "into the memory". In free translation it could probably be more like "To Remember", at least if you take into account the function memorial cards have nowadays.
Both terms can be and are used interchangeably. There does not seem to be a better or more appropriate of the two. Words "Memorial" and "Memoriam" sound very similar and have similar meaning. They both stem from Latin word "Memorare", meaning "Remember".
Other names used are "Remembrance Cards", "Mortuary Cards" (rarely used) , "Eulogy Cards" (rarely used) or just "Memoriam Cards" All forms perfectly usable. Memorial cards are also referred to as "Prayer Cards".
In Ireland we sometimes encounter people using weird spelling version, "In Memorium" or just "Memorium". Difficult to say where this spelling originates from but it is almost certainly wrong.
Memorare Cards are something different
Do not confuse memorial/in memoriam cards with Memorare Cards. These are different kind of card and they serve different purpose. Memorare cards bear Roman Catholic "Memorare" prayer: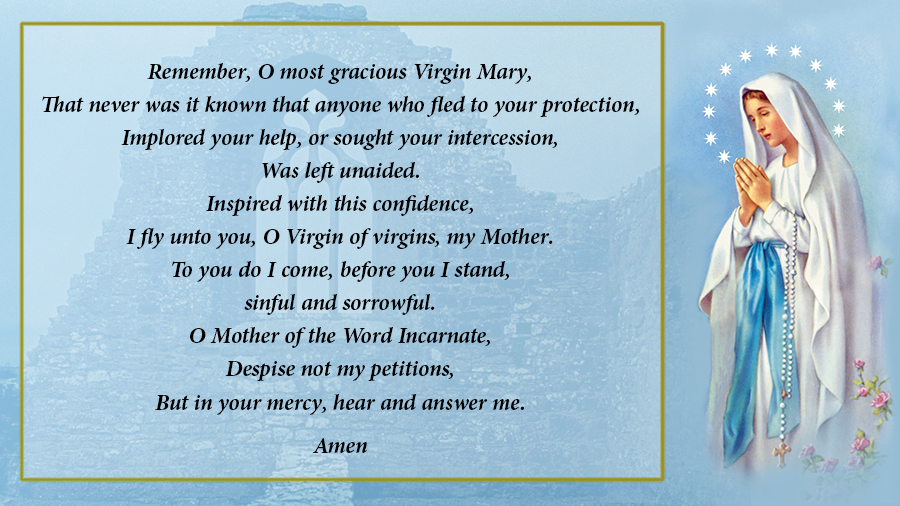 The Memorare cards often depict the Blessed Virgin Mary and serve as a reminder that we can always ask Her for help. The history of this prayer is interesting and you can read it here.
Free Memorial Card Templates
This template pack is aimed at designers working for general printers who may have a need to quickly create a memorial card without knowing the specifics of this type of print. You can use it as a base of your own memorial card design.
If you need to quickly design a memorial card you can download and use our free Memorial Card template (Adobe InDesign version 4 and upwards). The template pack contains simple memorial card design along with 7 types of frames and 10 verses.
Download (Adobe InDesign format)
You can download our template pack here:
Download Memorial Card Template Pack (5.3MB)
Tips for Designers
Hint – if you just need to get hi quality printable pdf of memorial card and do not have Adobe InDesign software, you can personalise and download one of our free designs here.
The frames and verses contained in the zip file will fit the design file if you use "paste in place" option in InDesign.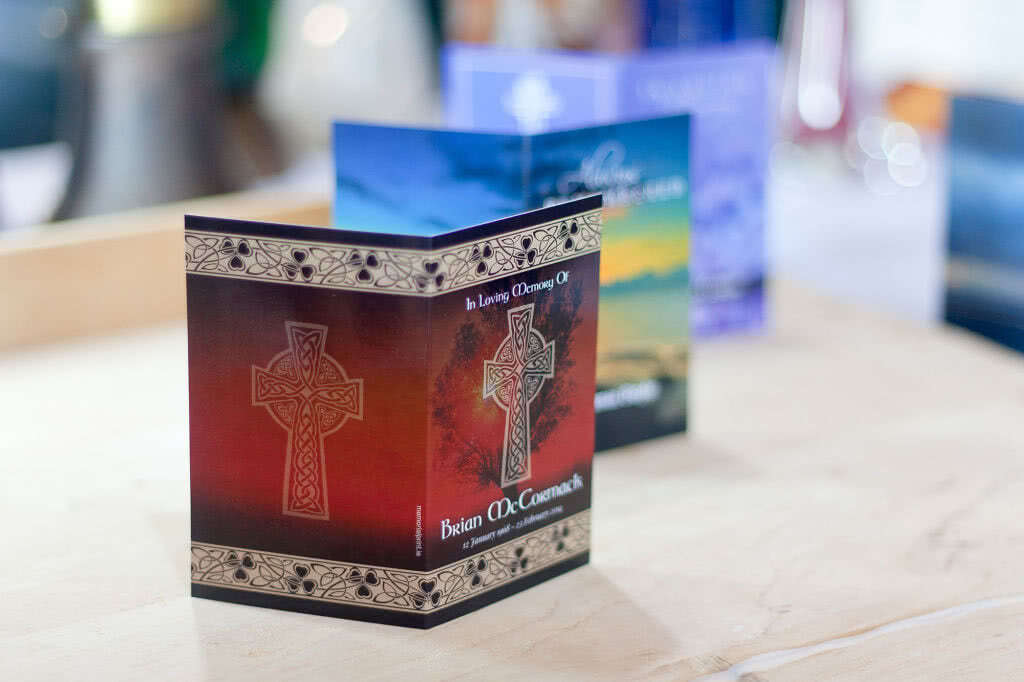 The files were created using CS6 but we also included idml files that allow you to open the design with CS4 and upwards. This means current cloud versions of InDesign will work with our download.
This template pack also contains the (open) free fonts used for in all the files.
The dimensions of the card are standard 72×115 mm. You are getting two versions of the design, single page one and spreads (144x115mm) so you can start designing in a way that suits your workflow.
The verses we included are likely the most commonly used ones, at least in Ireland. For more up to date top 10 memorial verses list go here.
The templates have ready frames for your photos so all you have to do is insert the photos and adjust their size to fit the frames. If you have just one photo, you can use included Chi Rho (Christogram) symbol instead of a photo. The Chi Rho symbol is commonly used on memorial cards – we placed it on a separate layer so you can easily switch it on and off.
You can also just use a simple cross in place of the photo – this would be common on memorial cards too.
It will save you time researching common memorial card design principles, common dimensions, layout etc.
We also have Acknowledgement Card template pack, you can download it here. Memorial bookmark template pack can be downloaded here.
Create Online and Download for Free
Our website lets you create memorial cards online and download print-ready artwork completely for free.
You can then attempt some DIY or take the artwork to the print company of your choice.
View free downloadable designs
To create and download a free memorial card, select a design – link above. Add selected design to cart (you do not have to pay, register or jump through any other hoops), personalise (add photos, text, select verses) and click "Download Free Hi-Res Pdf" button on the preview page.

The free artwork will be in pdf format – industry standard for printing.