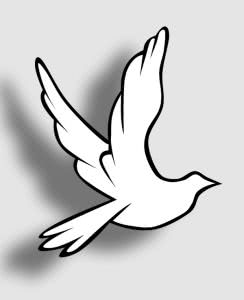 Having been in the Memorial Card business for a good few years now we were able to compile a list of the most popular verses and poems. The list is based on what verses our customers select the most in our online personalisation system (full list is also available below the ten most popular verses). These are universal and for some reason they consistently keep winning over others.
Click to skip right to the list
They appear on so many websites that it is difficult to attribute their authorship, most of them could probably be considered public domain at this stage.
If you are looking for standard solid verses for an In Memoriam card, the verses below are certainly a good bet. All the verses below can be used with our personalisable card designs, if you want to see the full list of the verses we have available at the moment please see here.
Also, the verses below are included with our Memorial Card Indesign Template Pack – so if you are a print designer looking for a quick start we suggest you download the pack – it is free.
If you think that there is a verse that should be included please do not hesitate to contact us and send it our way – we will be more than happy to include it as a bonus.
Please note – vast majority of our clients come from Ireland – so this list applies to Ireland the most. Many of our clients do not choose any of our verses. They use our "custom verse" option and provide their own personal text. Often it is a poem written by a family member or a friend.
All the verses are guaranteed to fit nicely on one page of a standard 72×115 memorial card.
Top 10 memorial verses and poems
A Letter From Heaven
I'm writing this from Heaven
Where I dwell with God above
Where there's no more
tears or sadness
There's just eternal love.
When you are walking down the street
And you've got me on your mind
I'm walking in your footsteps
Only half a step behind.
And when you feel that gentle breeze
Or the wind upon your face
That's me giving you a great big hug
Or just a soft embrace.
And when it's time for you to go
From that body to be free
Remember you're not going
You are coming here to me.
They say there is a reason
They say there is a reason,
They say that time will heal,
But neither time or reason,
Will change the way we feel.
For no one knows the heartache,
That lies behind our smiles,
No one knows how many times,
We have broken down and cried.
We want to tell you something,
So there won't be any doubt,
You're so wonderful to think of,
But so hard to be without.
We cannot bring the old days back,
When we were all together,
The family chain is broken now,
But memories live forever.
We Give Our Loved Ones Back to God
We give our loved ones
back to God.
And just as He first gave
them to us
and did not lose them
in the giving,
so we have not lost them
in returning them
to Him …
for life is eternal,
love is immortal,
death is only a horizon …
and a horizon is nothing
but the limit
of our earthly sight.
May the God
of Love and Mercy
Care for our Loved
One who
is gone
And bless with
Consolation
Those left
To carry on.
Road to Eternity
Life is but a stopping place,
A pause in what's to be,
A resting place along the road,
to sweet eternity.
We all have different journeys,
Different paths along the way,
We all were meant to learn some things,
but never meant to stay…
Our destination is a place,
Far greater than we know.
For some the journey's quicker,
For some the journey's slow.
And when the journey finally ends,
We'll claim a great reward,
And find an everlasting peace,
Together with the Lord.
God Saw You Getting Tired
God saw you getting tired
and a cure was not to be
so he put his arms around you
and whispered,
"Come to Me"
With tearful eyes we watched you
and saw you pass away
and although we love you dearly
we could not make you stay.
A Golden heart stopped beating
hard working hands at rest.
God broke our hearts to prove to us
He only takes the best.
Do not stand at my grave and weep
Do not stand at my grave and weep
I am not there, I do not sleep
I am a thousand winds that blow
I am the diamond glints on snow
I am the sunlight on ripened grain
I am the gentle autumn's rain
When you awaken
In the morning's hush
I am the swift uplifting rush
Of quiet birds in circled flight
I am the soft stars that shine at night
Do not stand at my grave and cry
I am not there, I did not die.
There is no night without
a dawning,
No Winter without a Spring,
And beyond death's
dark horizon
Our hearts once more will
sing For those who leave us
for a while, have only
gone away
Out of restless,
careworn world,
Into a "Brighter Day".
God called your name
so softly,
That only you could hear
And no one heard the
footsteps,
Of angels drawing near.
The golden gates stood open,
God saw you needed rest
His garden must be beautiful,
He only takes the best.
Miss Me But Let Me Go
When I come to the end of the road
And the sun has set for me
I want no rites in a gloom filled room
– Why cry for a soul set ?
Miss me a little, but not too long
And not with your head bowed low.
Remember the love that we once shared
– Miss me, but let me go.
For this is the journey we all must take
And each must go alone.
It's all a part of the Master's plan
– A step on the road to home.
When you are lonely and sick of heart
Go to the friends we know
And bury your sorrow in doing good deeds
– Miss me, but let me go.
Would you like to create and download a memorial card with one of the above verses – completely free? Start here.
If you need more ideas, below you can see standard verses we have as options in our online presonalisation system at the moment.