Last updated March 16th, 2023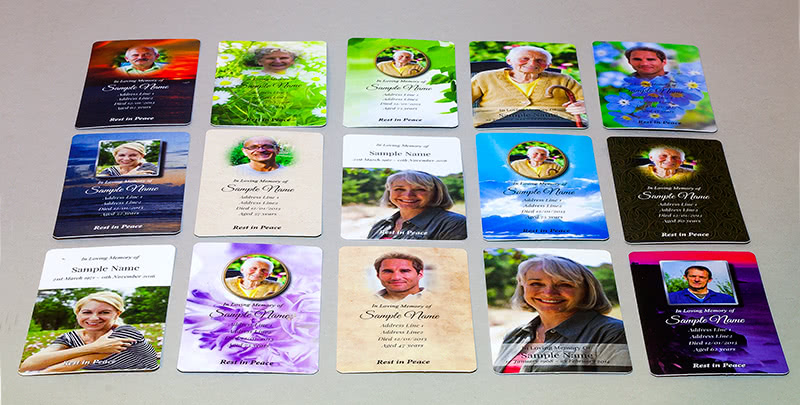 If you are planning to order wallet memorial cards, you have come to the right place. This page contains everything you may want to know about this type of cards.
You can jump right to ordering or get more information first. Please read on.
Want to order your wallet memorial cards now? To start click the button below and select a design on the next page! Then upload your photos, add text and view instant online proof.
Ordering online is simple: select suitable design, add to cart, add photo and text, review proof, place your order.
What are wallet memorial cards?
Wallet memorial card is created to commemorate someone who passed away. When carried in your wallet it prompts you to give your departed Loved One a thought. It acts as a "reminder to remember" of sorts. When someone leaves this world, often remembering is all we can do. As the time passes and busy lives take over our attention, wallet memorial card helps you to keep remembering.
Wallet cards are given to people who are likely to keep them in their wallets. Relatives, close friends of the deceased, those who would like to have this sort of a personal keepsake with them at all times. Wallet cards are a very popular type of keepsake, almost as popular as standard memorial cards.
Video above shows our MPW-06 wallet memorial card – you can order it here.
Wallet cards have the same shape and size as standard credit card or business card. The exact dimensions are: 55x85mm or 2.16"x3.34".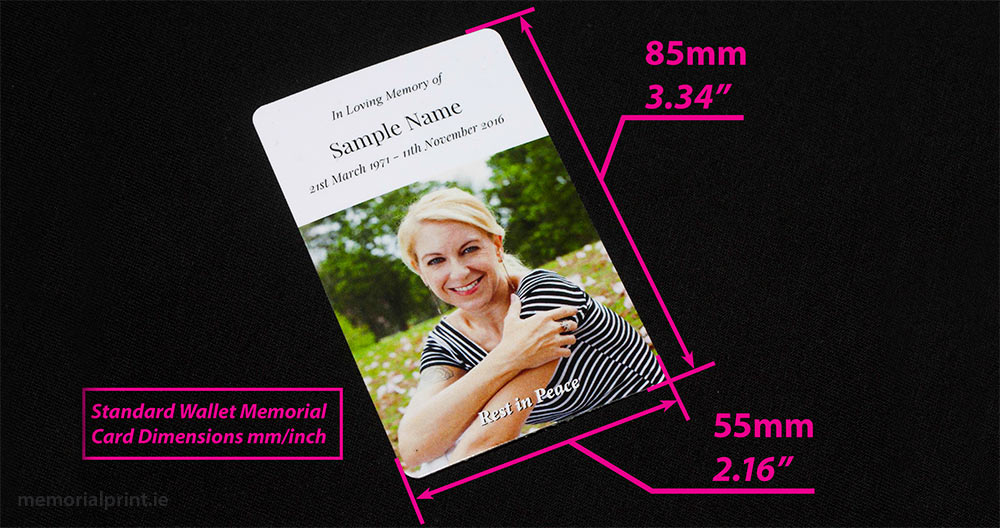 Small size makes them a perfect keepsake to be carried in a purse or wallet – because most wallets have slots for credit cards. The cards have rounded corners. It makes them less prone to damage.
Typical card design
Vast majority of wallet memorial cards have portrait orientation. You may encounter landscape-oriented ones but they are very rare and usually very old.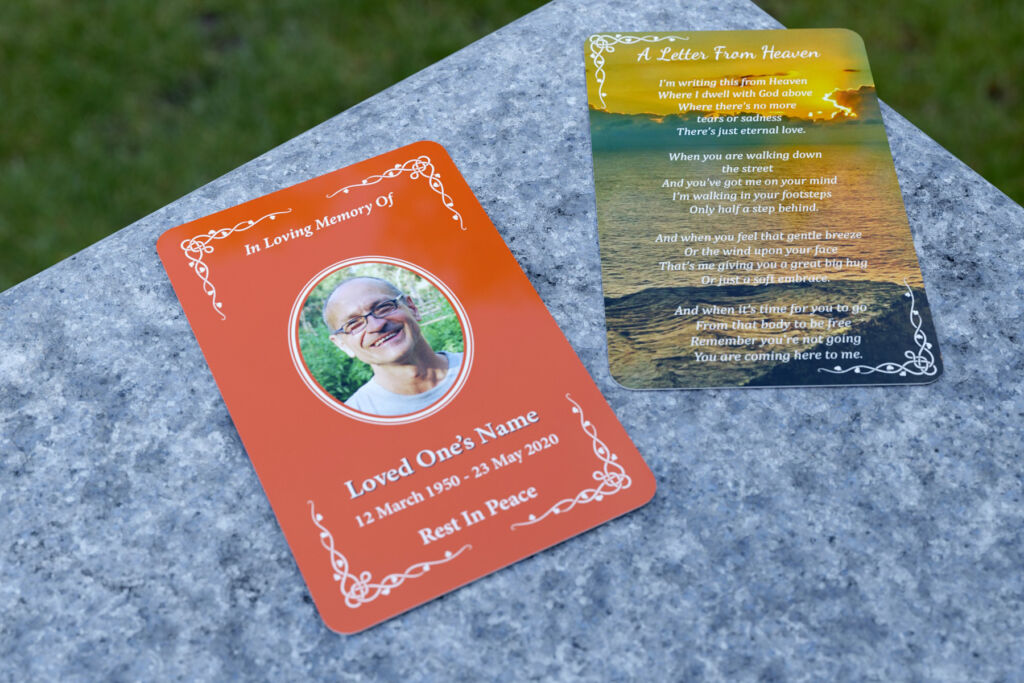 Seems that portrait orientation allows for better utilization of the space. It is also a natural orientation for portrait photos. Most of wallet cards feature a photo.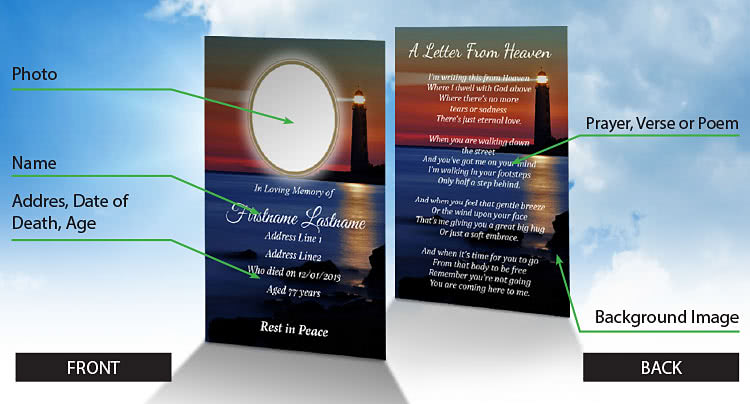 Some designs however do not use a photo of the deceased at all. In such case the design consist of a cross or a religious image along with the name of the deceased on the front.
Video below shows a 360 degree view of a wallet memorial card as well as multiple background options:
The size and shape of the wallet card determines the design. As the space is limited, the design is usually pretty standard. From all memorial products only keyrings are smaller than wallet memorial cards.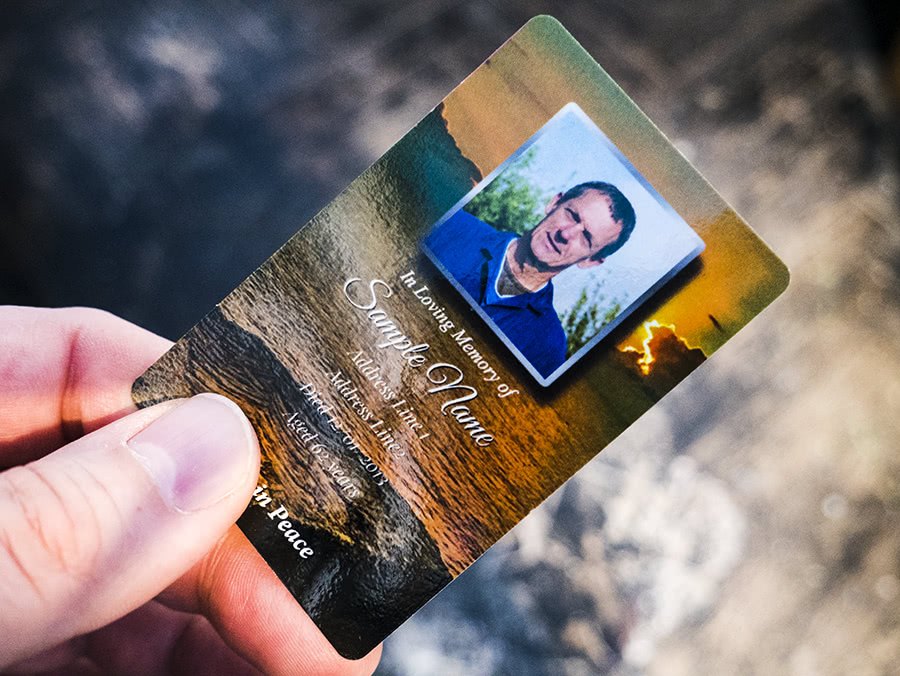 Both front and back can and usually do have a photo as the background. Scenic photos or places somehow related to the deceased are commonly used.
Some cards use religious imagery or a cross on the back.
Legibility can very easily become an issue, especially if the background is busy or if you are trying to fit too much text to the back. Our verses' selection is already optimised for legibility and if we do a custom design we also consider the legibility issues. If you supply too much text, we'll let you know.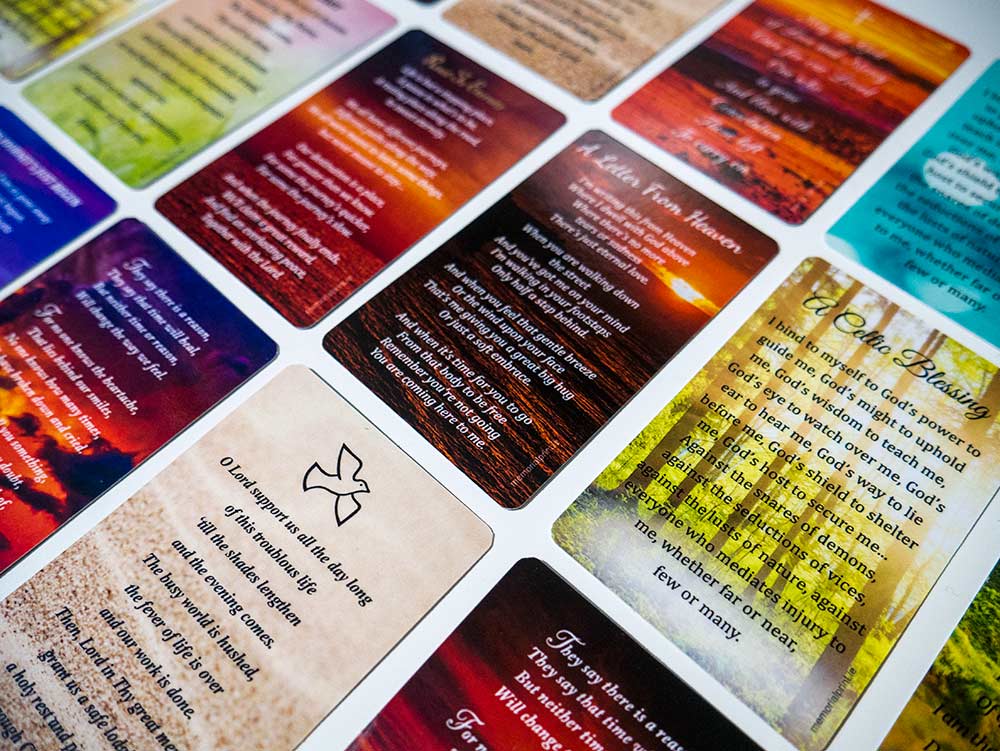 .
Videos – example wallet cards
The videos below show typical examples of wallet memorial card layout.
Above: MPW-01 wallet card, order here.
Above: MPW-03 card, order it here.
MPW-05 wallet card, order here.
MPW-06 – order here.
Example card photos
Photos show our popular prayer card designs. Click on the thumbnail to enlarge.
More photos can be found here.
Standard wording and content of a wallet card
What photo should I use for the card?
The vast majority of photos we see on all our card types are photos from social occasions. Weddings, birthdays, pub outings, family events.
This makes sense as people tend to look their best during such events (or at least at the beginning of them, but let us better stop here).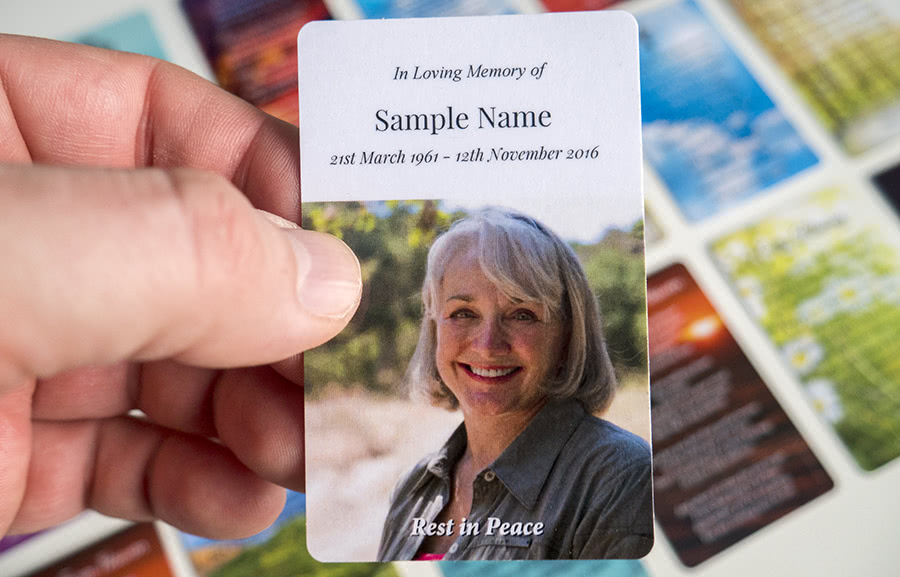 We also see old black and white photos, these work well too.
If you have many photos to choose from, you are the best qualified person to select the best one. Select one that – in your opinion – best captures the personality of the deceased.
Wallet cards are not about showing people looking their best. They are about remembering who they were. Do not worry if the photo you have is not perfect. The emotional value is what matters.
What if you do not have a choice? Then simply use what you have. We'll do our best to make the photo as good as it gets.
There are good news though: wallet cards are small and so are the photos on them. Unless you go for a full page photo, technical problems and other shortcomings are unlikely to show.
If you only have one poor quality photo (as it is often the case) or want to use a particular photo for emotional reasons, then wallet cards may be your best option and we would recommend you to choose it over other card types.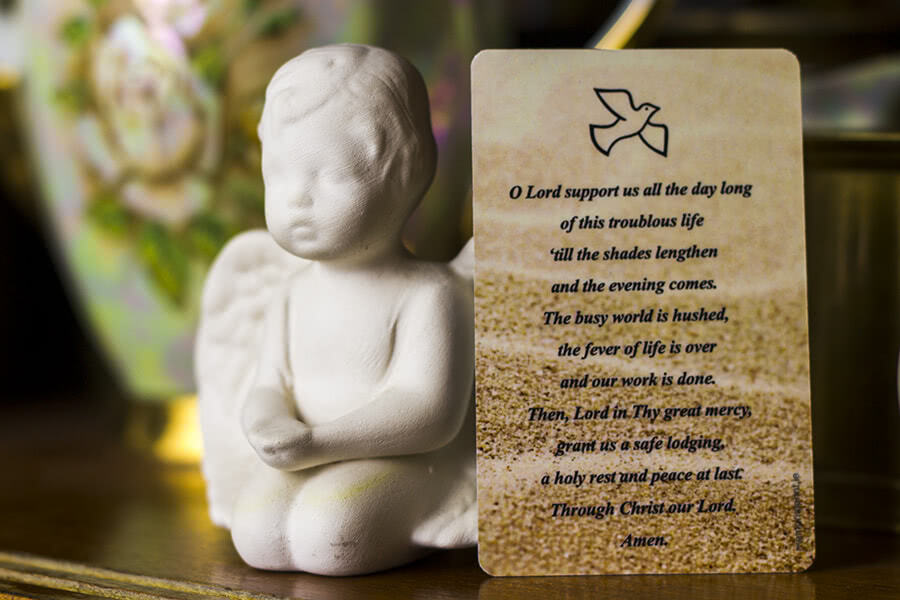 Note: say you want to use a particular photo, but there are other people on it. We can try and remove the person/people to clean the photo up. This is not always possible, but as long as most of the face is visible, we can fix it.
Video – removing a person from photo
The video below shows example of such removal. It is a medium difficulty one. It should give you an idea what kind of fixes are possible and how good the outcome may be.
We will do this free of charge for you. Simply use the photo as is in our personalisation system and leave us a note in custom verse/message field on checkout.
Do not attempt tight cropping, crop just like you would like the photo to look with other people or distracting elements removed.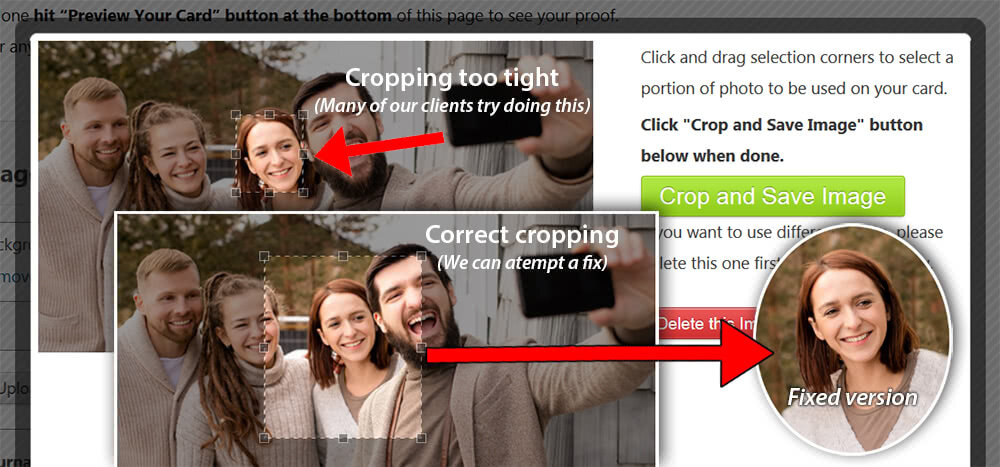 Tell us what you need removed/cleaned up and email us the original photo if you can. Just reply to email you'll receive after placing your order.
We will attempt the fix and send you final proof before printing.
We routinely remove people and distracting elements from the photos and are very good at it.
If you are not sure about quality, do not worry. Use the photo as is. We check quality of all photos, and if there is a problem, we will let you know.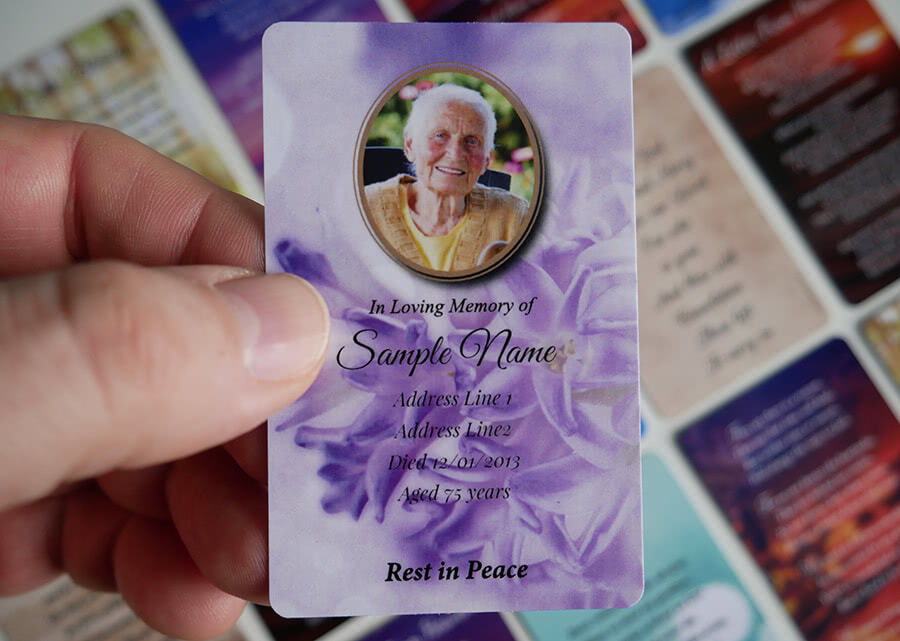 Wording: front of the wallet memorial card
As the cards are small, wording is usually kept short.
The cards can have a heading – its wording is the same as on full-sized memorial cards.
Example headings
In Loving Memory Of
Remembering (Name)
Always in Our Hearts
In Memoriam
Forever in Our Hearts
In Remembrance Of
Precious Memories Of
Let Us Remember
Sadly Missed
Rest in Peace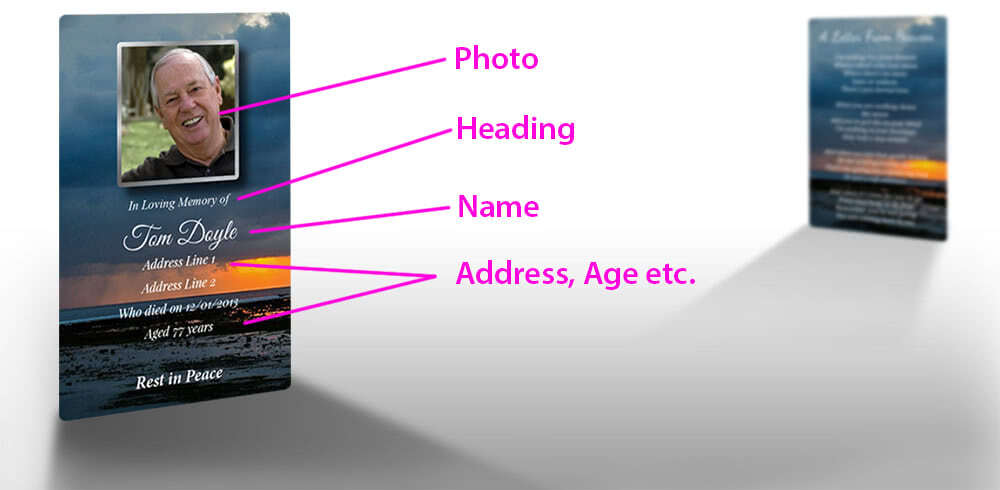 A photo of the deceased is usually placed under or above the heading. The heading should not be very prominent, as it would compete with the name. The card is too small to have more than one important thing on it.
The photo is then followed by some variation of the below text:
In loving memory of
Name and Surname
Address Line 1
Address Line2
Who died on 12/01/2013
Aged (age) years
Rest in Peace
The video above shows example front layout/designs of wallet cards.
Wording: back of the card
The back of a wallet memorial card almost always consists just of a short prayer (thus their alternative name – Prayer Cards), verse, poem or other short text.
The space is limited so the text has to be selected carefully.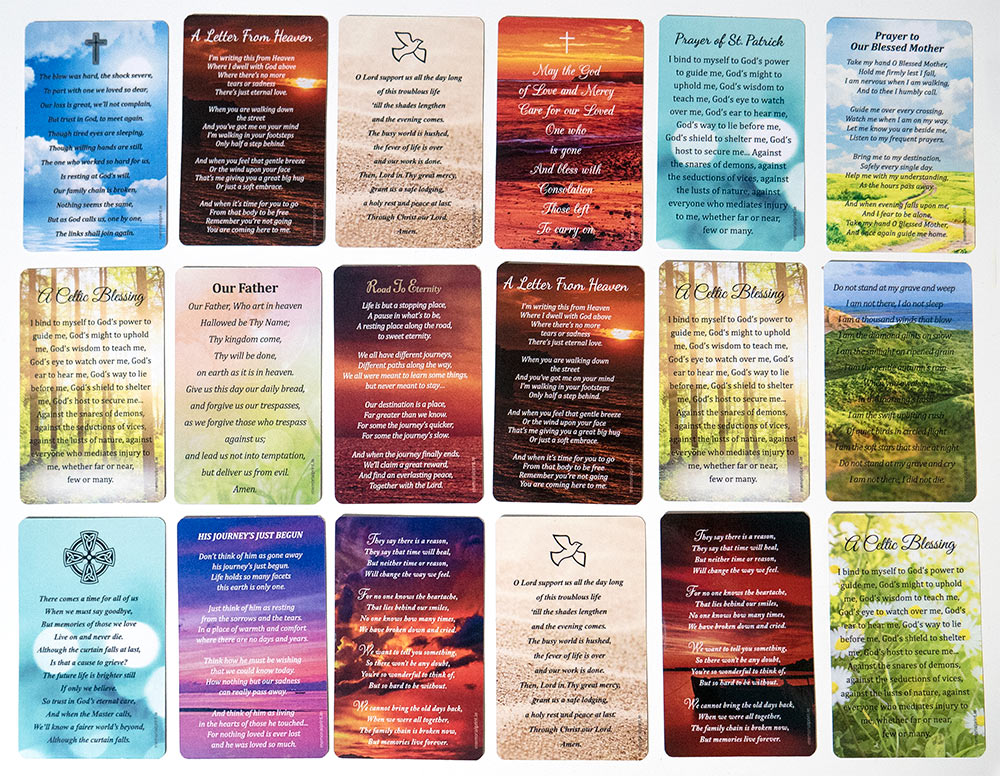 Maximum amount of text that fits
Usually four 4-verse paragraphs is the maximum you can fit while keeping the text clear enough to read.
So if you need a solid value, a maximum of 100 words or 500 characters will usually be a safe amount of text for a poem.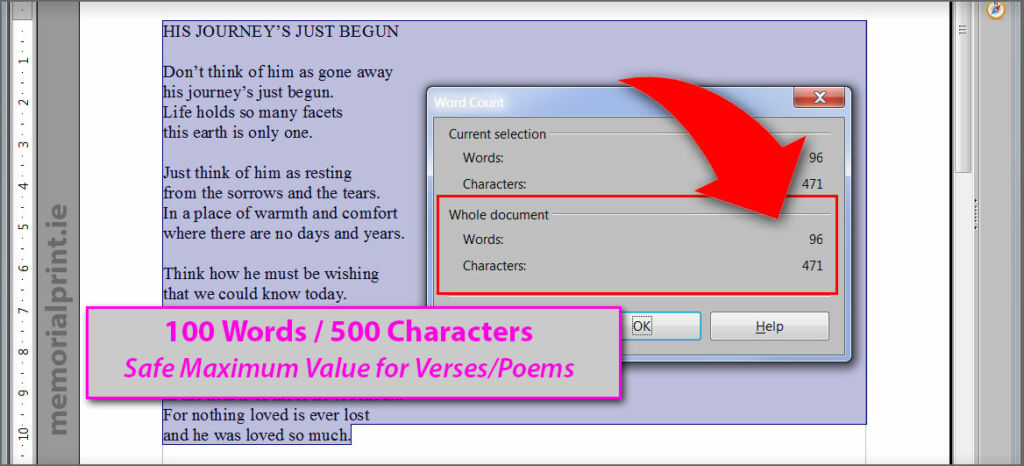 If you are wondering how much of continuous text you can safely fit on the back – it is 1000 characters or 200 words. And we have to emphasize that at that point you are really stretching it a good bit.
We checked the longest verse we use (all verses are listed right below), "Footprints".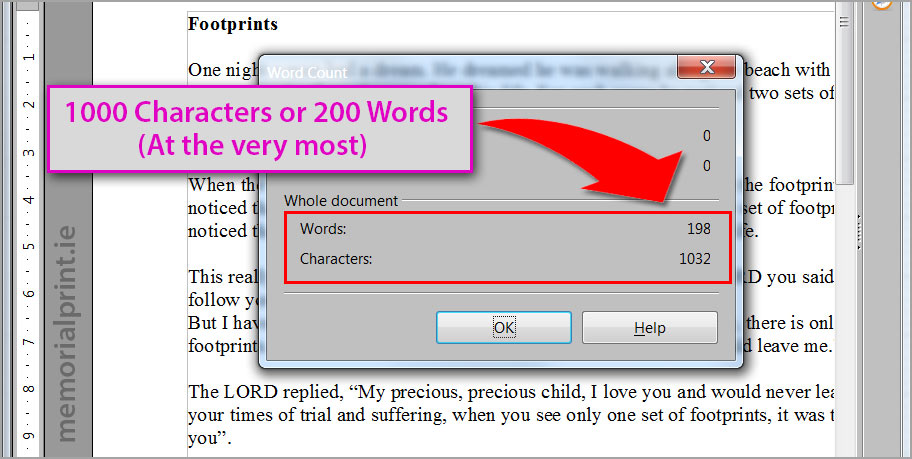 "Footprints" is more like a story, there is a good degree of freedom in formatting it. You do not have such freedom with poems.
Video – example backs
Above you can see a selection of our background/verse options for the back of the card. If we printed all the possible combinations the stack would be 40cm / 16″ tall.
Verses and poems that will fit on the back
Below you can see the verses that are available to choose from in our online personalisation system. They were selected to fit on a wallet card.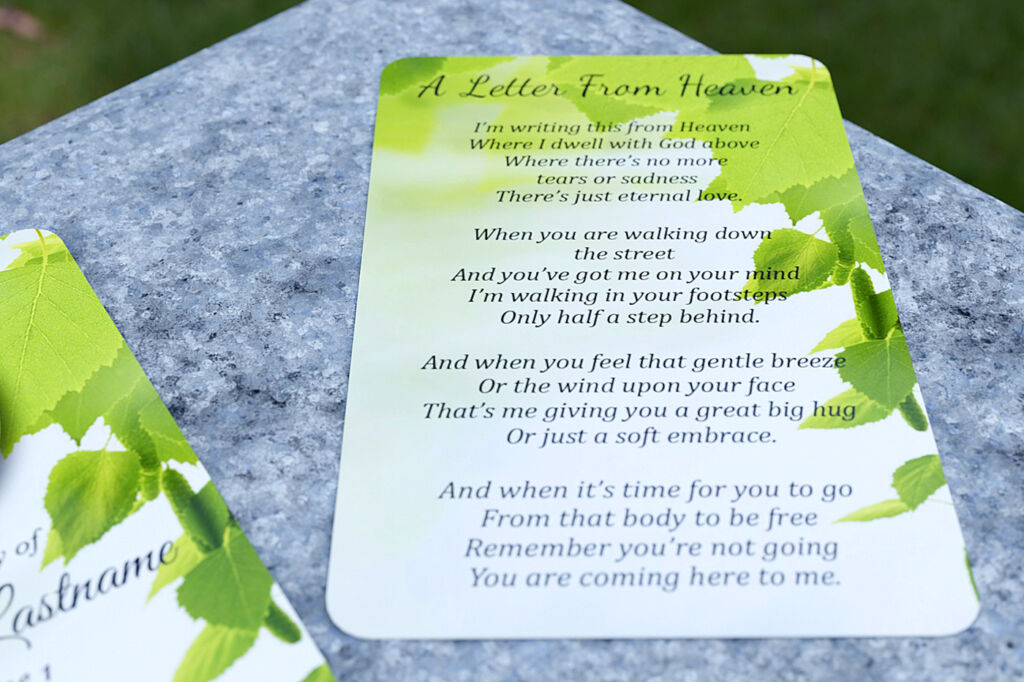 We printed them many times, they are legible and work well. The verses below are pulled automatically from our system, so what you see is exactly the selection available when personalising any of our template designs.
Need a custom verse? No problem, we put it in for you at no extra charge.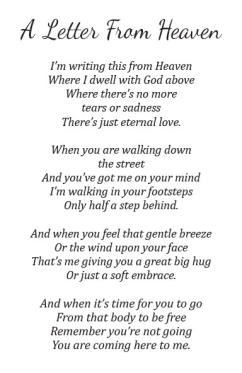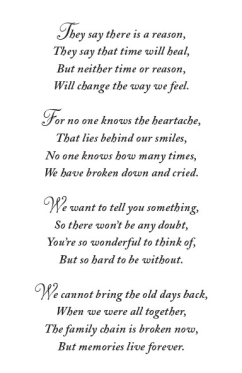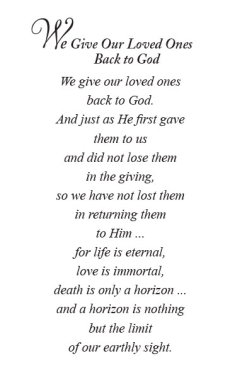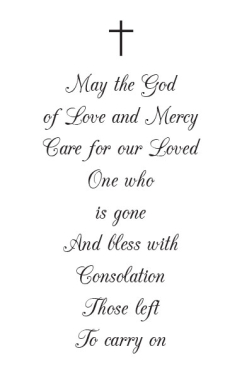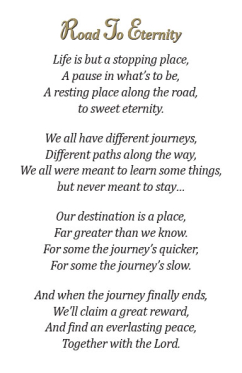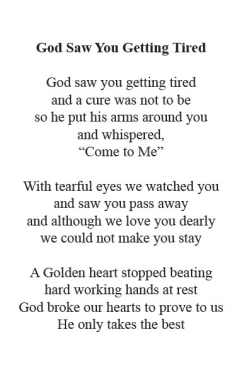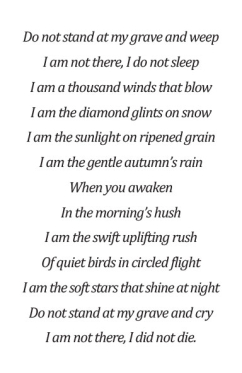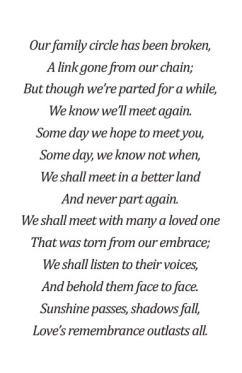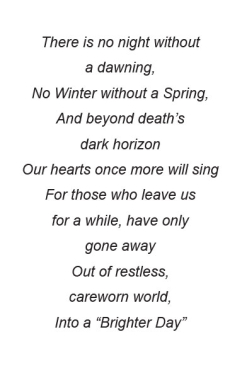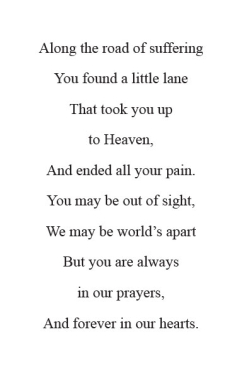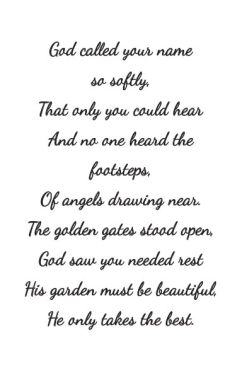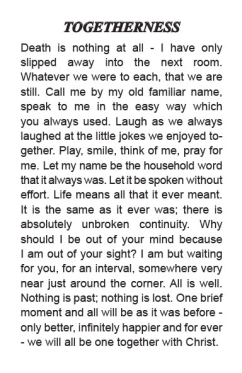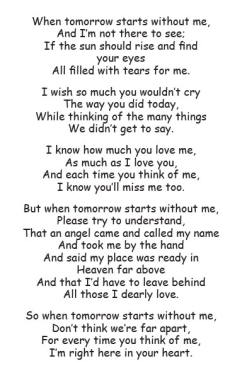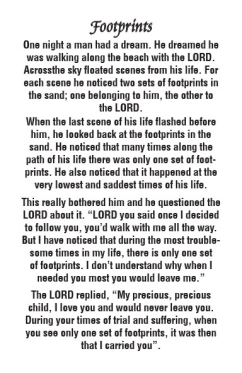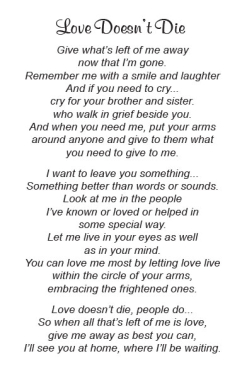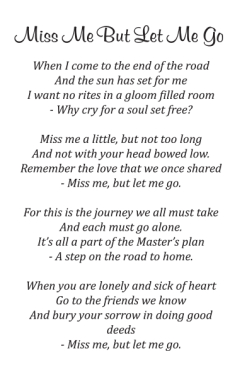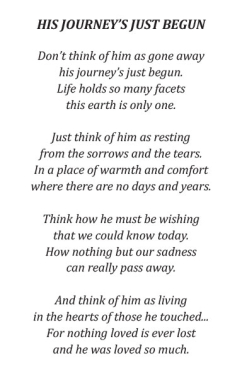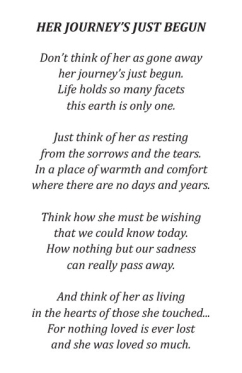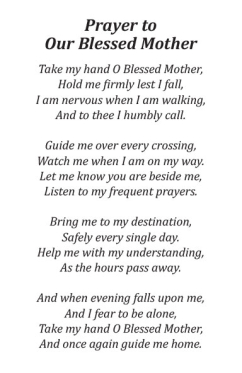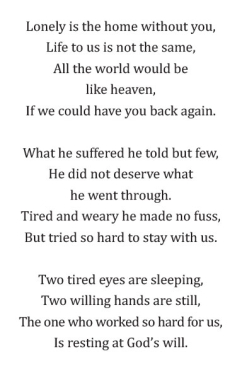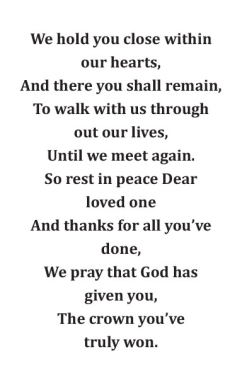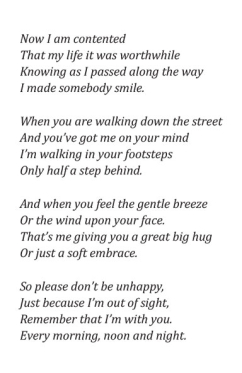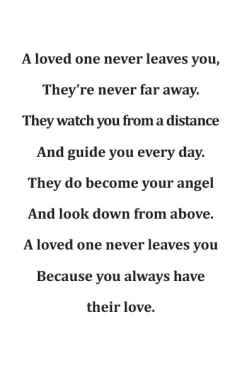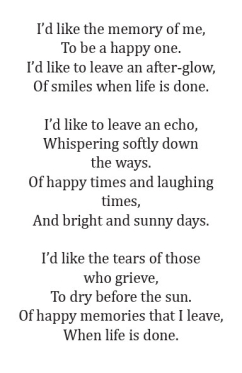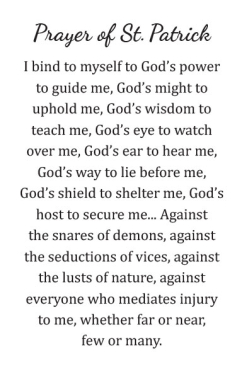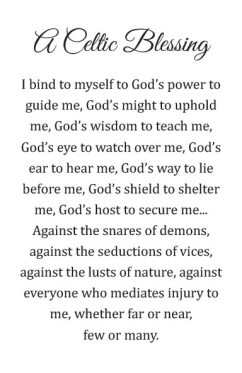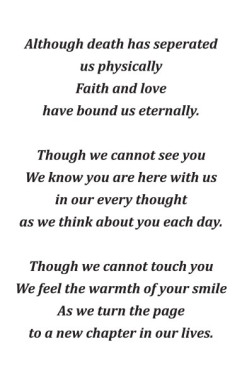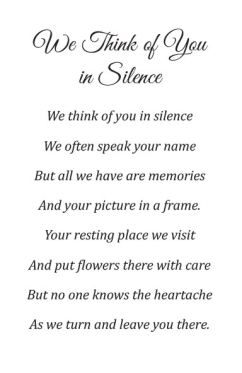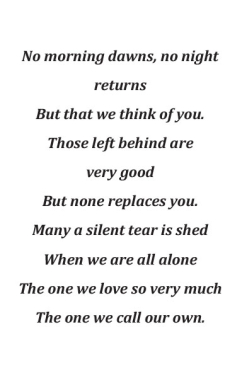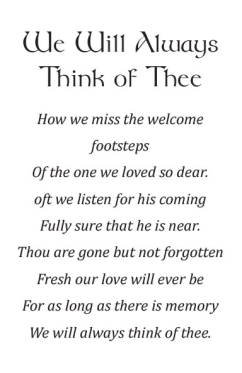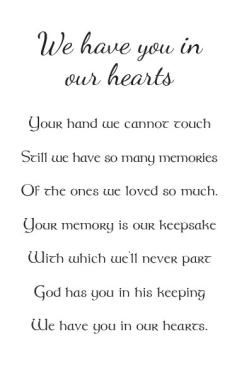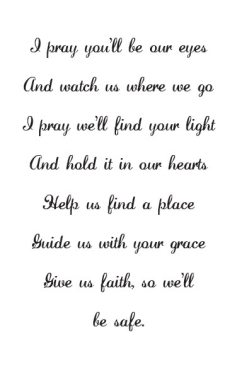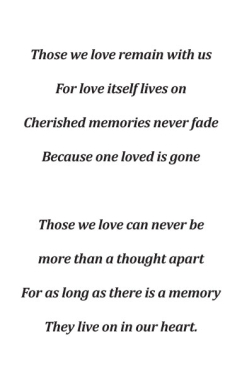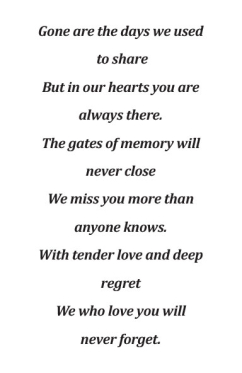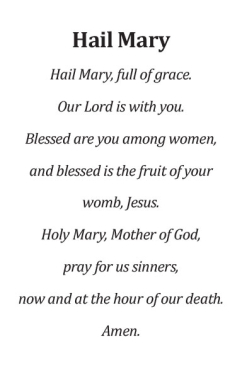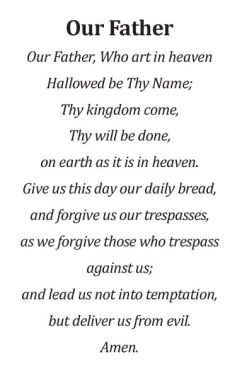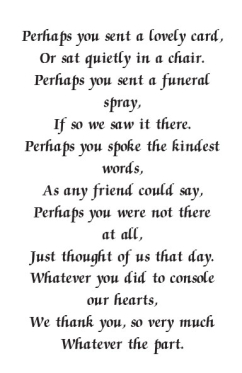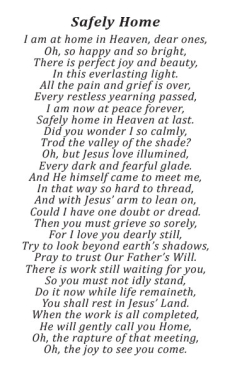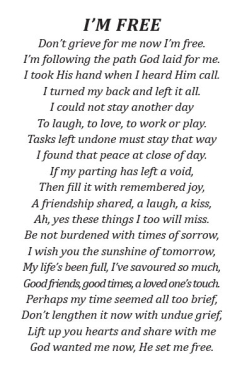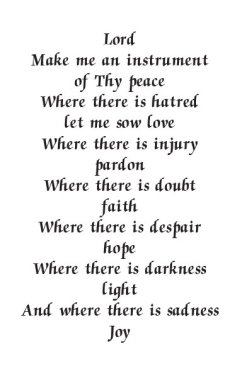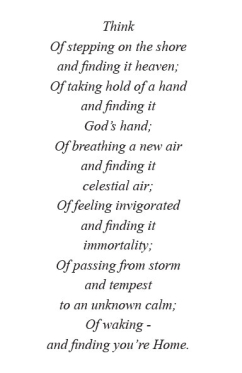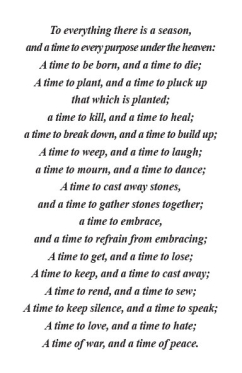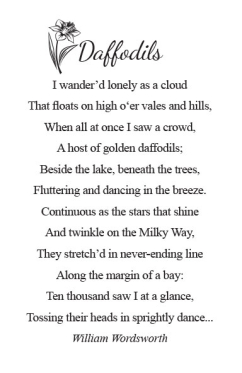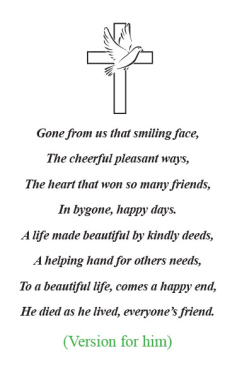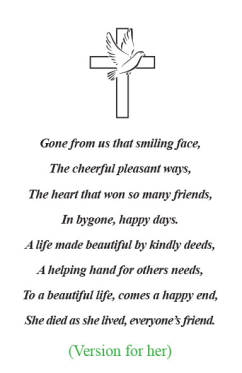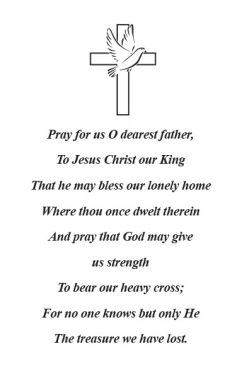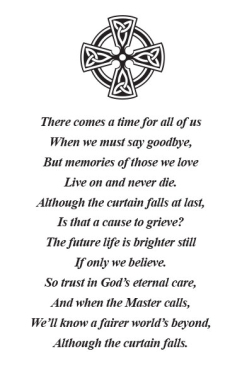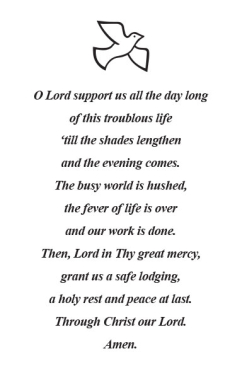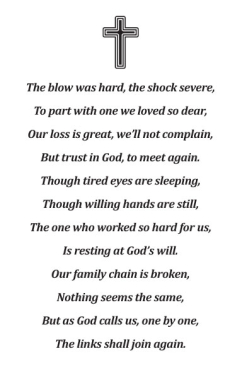 Prices
| Quantity | 25 | 50 | 75 | 100 | 150 | 200 | 300 | 400 | 500 |
| --- | --- | --- | --- | --- | --- | --- | --- | --- | --- |
| Price | €59 | €95 | €102 | €128 | €155 | €174 | €219 | €255 | €295 |
The above prices include delivery (Ireland, UK and mainland EU). Matching envelopes supplied free of charge on all orders.
Here you can view prices of our other products like acknowledgement cards, bookmarks and folding memorial cards.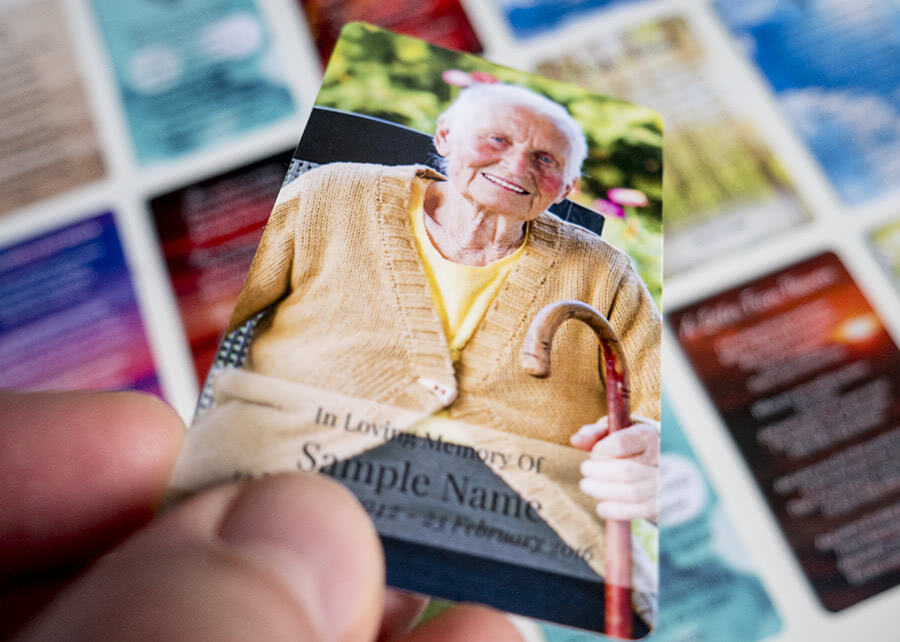 Ordering wallet cards
If you are looking to order wallet memorial cards, please see some of our designs below. These cards can be personalised and ordered online. Our system will let you upload photos, add text, select verses etc.
Instant online proof is generated, so you can see right away how the card will look like.
We suggest that you try the online designs first. Vast majority of our clients is perfectly ok with them.
Ordering process is very simple and text suggestions are offered at every step. Should these suggestions fail, we are always there to help you through live chat as you are going through the personalisation process.

Each template design has 400+ possible front and back background combinations. Add our standard verses to the mix and you end up with staggering 19600 possible layouts using just one template.
If you need us to make some minor changes (background, different verse, font change etc.) we do those free of charge. Simply list your changes in the "custom vese / message" field on checkout.
Above: MPW-03 card with full page photo one the front, order it here.
This way you can go beyond what our templates offer but use them as a base and save time.
We will do the changes and email you the final layout for approval.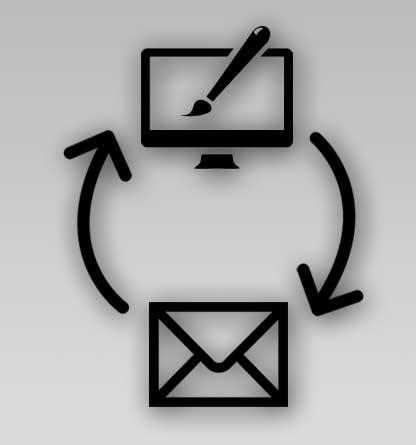 If you feel that our template designs do not fulfill your needs, you can order a custom design. There is no design fee. The prices are the same as listed above.
Many of our clients start with our template designs online, and request changes to fulfill their own particular design goals. We have a special field on checkout where you can list your changes, enter custom verses etc.

In case you use this facility, we will make the changes on our end and email you a proof for approval.
How many cards do other people order?
Over 90% of our wallet card orders are between 25 (minimum quantity), 50 and 100 cards. Larger orders are rare, but they do happen.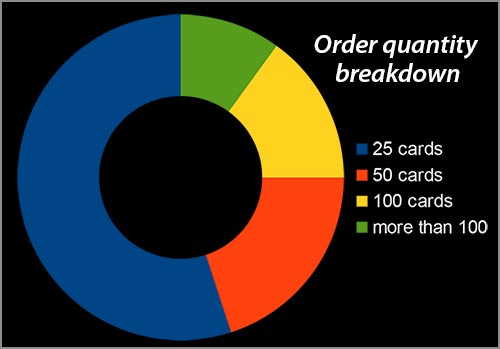 Wallet cards vs other products – price difference
The table below lets you quickly compare the prices of wallet cards vs other memorial products we offer.
How popular are wallet cards?
Almost a third of our clients buy wallet memorial cards. We can say they are a very popular keepsake. It is worth mentioning that they are often ordered alongside other products.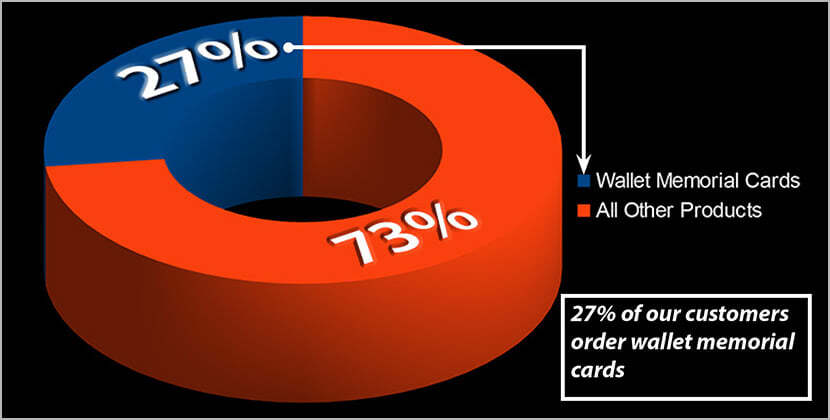 Based on our sales data from years 2018 and 2019.
Durability
The cards will easily survive years in your wallet without any deterioration in their look. This is mainly due to lamination, but not only (although lamination does help a lot of course).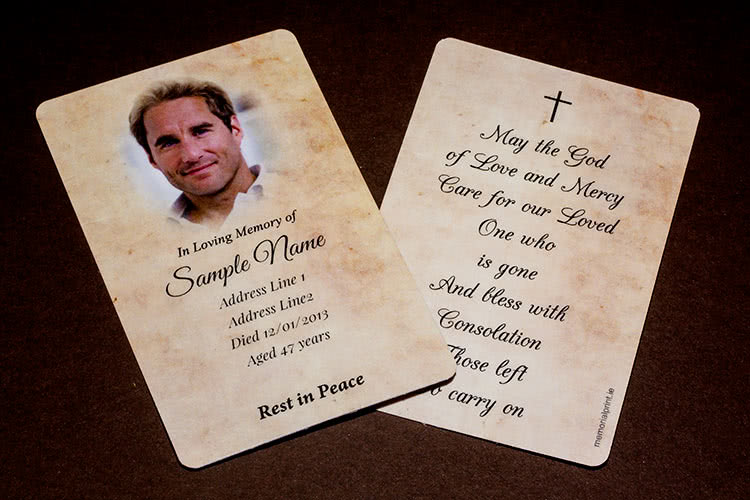 Nowadays, wallet cards (and in fact all our other products) are printed exclusively using digital printing presses. Those presses require special, heavy coated digital paper. Coating makes paper more durable and less likely to absorb moisture.
Digital print is the only economically viable option to print wallet cards, unless you need tens of thousands of them. All Irish suppliers, ourselves included, print those cards digitally.
Digital presses do not print with ink, but with toner. Toner consists of tiny particles of plastic that are melted and fused into paper. This results in very durable print. The print is more or less a layer of plastic.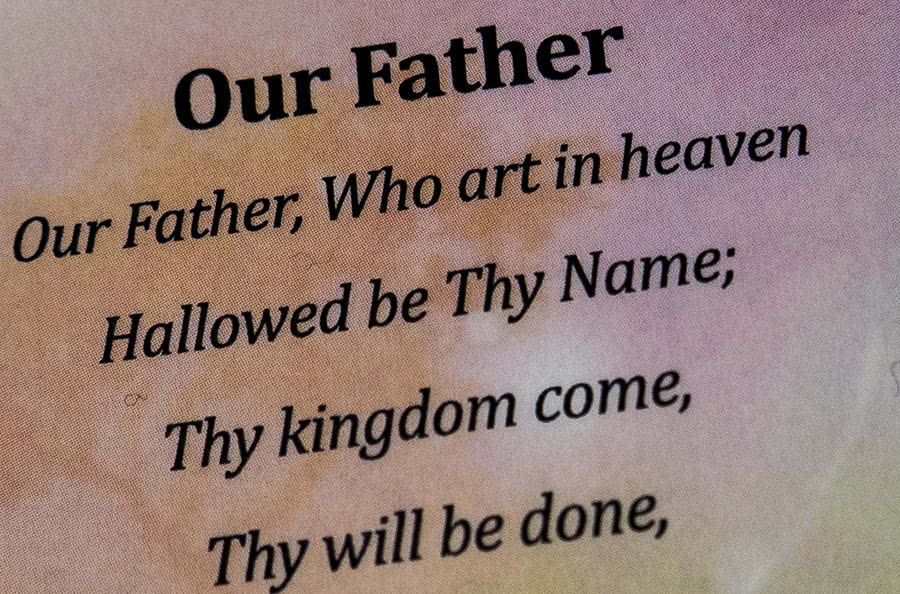 Usually the cards have rounded corners but many companies still do them with ordinary square corners. We would say that they are cutting corners by not rounding corners.
Rounding corners helps to prevent damage when inserting the cards into wallet – so it makes sense from both aesthetic and technical point of view.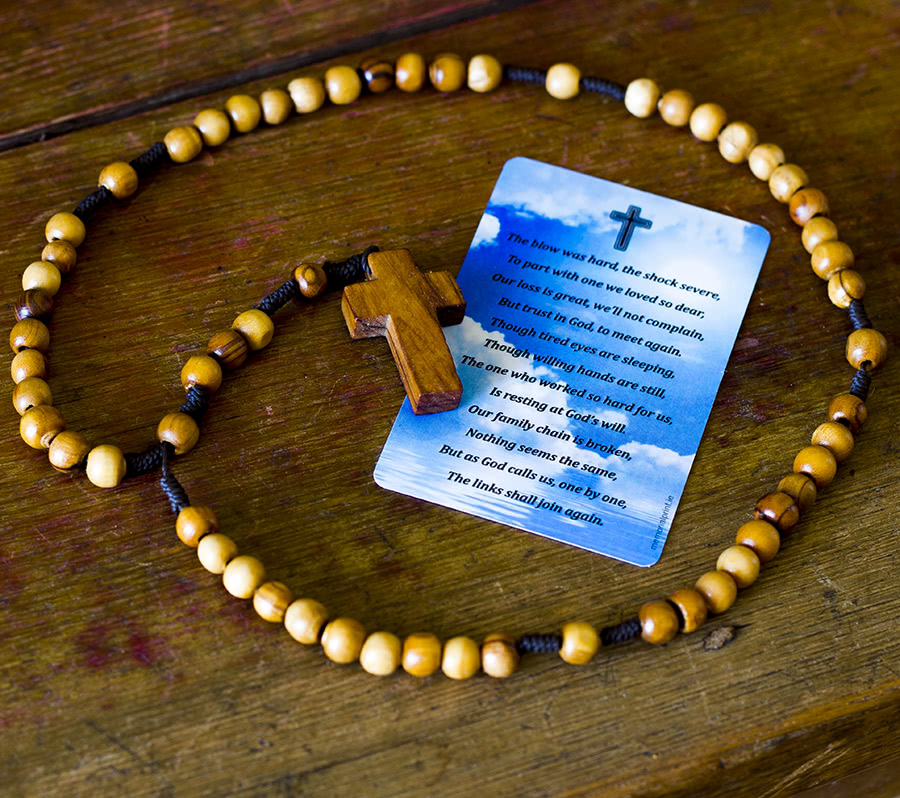 Rounded corners also prevent delamination that would not only look bad, but also contribute to faster wear of the card.
All our wallet cards do have rounded corners.
Generally speaking, you should not worry about the durability. It is unlikely to become an issue. Paper is surprisingly durable, laminated paper even more so.
Cards from the Victorian era are still around (not to mention the Gutenberg Bible, printed c. 1454). Cards we print today with modern technology can and will last much longer.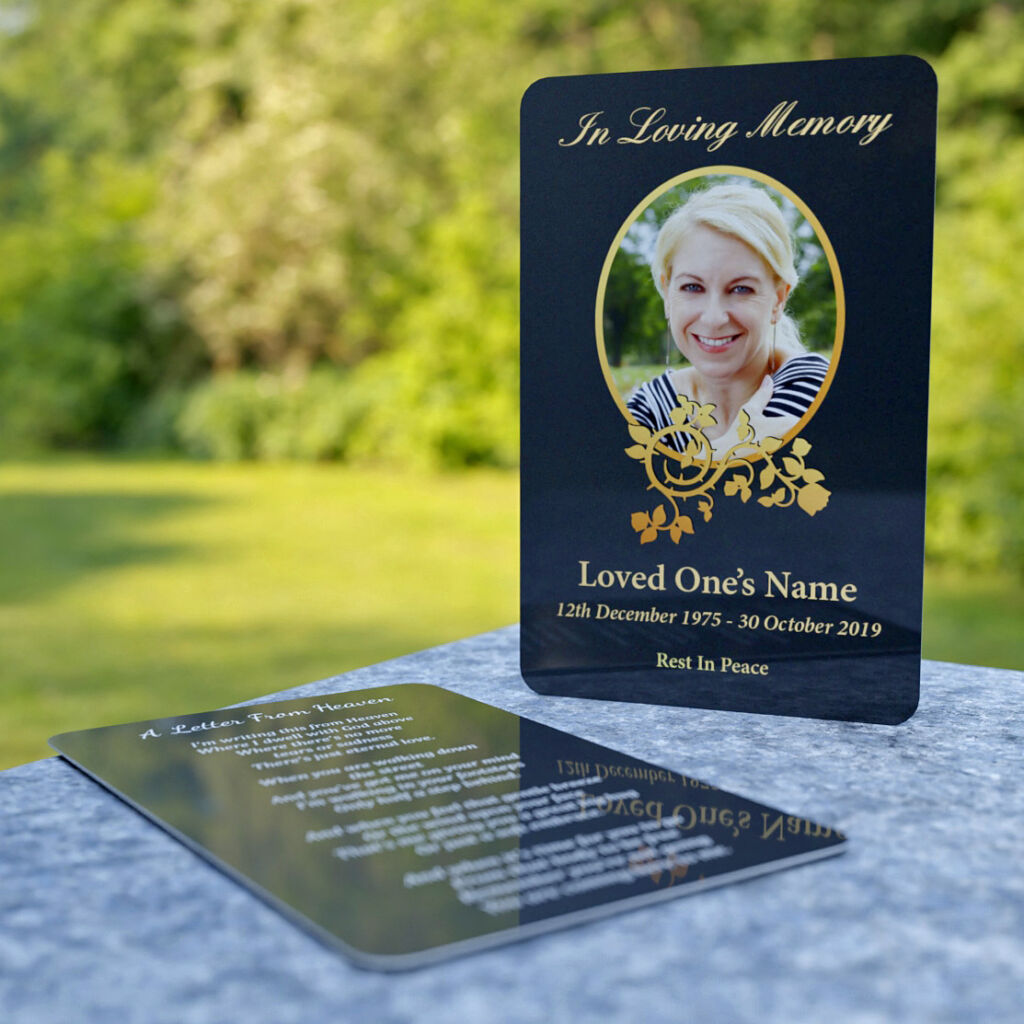 Pros and cons of wallet memorial cards
Pros
durable thanks to being printed on thick card and lamination
perfect size to be carried in a wallet – same size as ATM cards, every wallet has a dedicated space for them
high quality print
a photo of the Loved One can be used
intended to be a long-lasting personal token of remembrance
can be used instead of a standard memorial card
Cons
small size prevents more elaborate design
limited space for text
price similar to full sized in memoriam cards due to similar amount of finishing work
Free downloadable wallet card designs – personalise online
If you cannot order from us, you can use one of our free downloadable designs. Just personalise your card, download it and print on your home printer. Then you can cut it to size – the downloaded design will have convenient crop marks to help you with this.
Also – we do not mind if you take the free design and get it printed it with your local printing company. Coming with print ready artwork you are bound to save some money.
Free Wallet Memorial Card Template in InDesign Format – Download
The template pack below is suitable for graphic designers, it is unlikely that you have the required software (Adobe Indesign) if you do not work as a designer.
Our free wallet memorial card template pack contains simple design for a standard 55x55mm (credit card size) wallet card. You can use it as is or create your own designs using our template as a base. Please note – you need Adobe InDesign in order to use this template.
You can download our template pack here:
Download Wallet Card template pack (2.2MB)
The template file has a layer where you can insert your background images so you can create a personalised card very quickly. It also contains a placeholder for the deceased person's photo.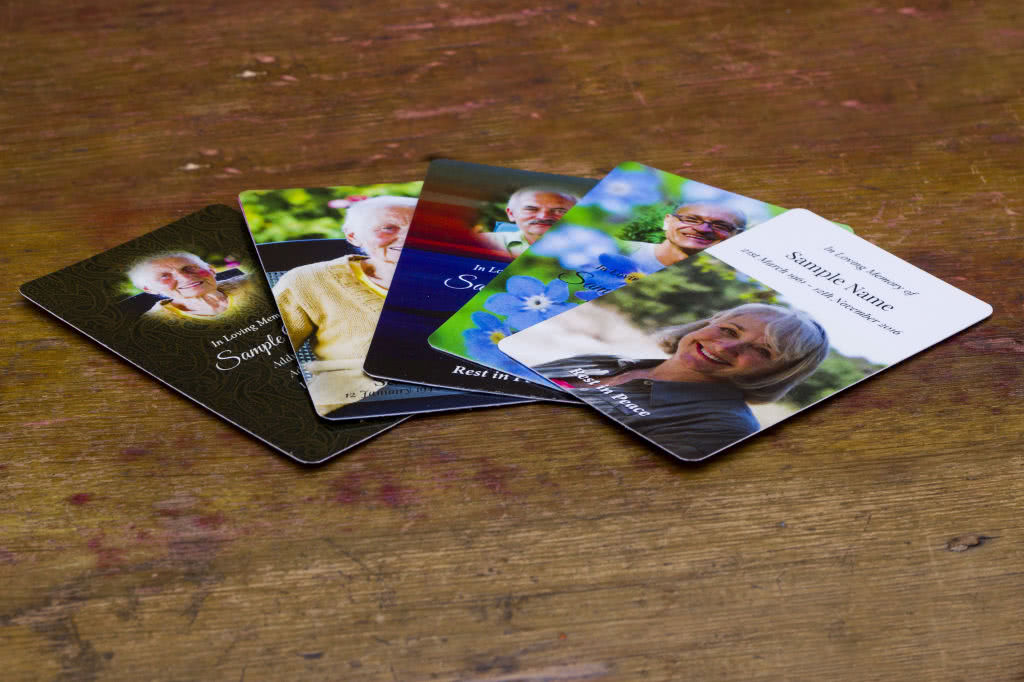 The template files were created using CS6 but we also included idml files that allow you to open the files with CS4 and upwards (meaning CC versions are also covered, but you do not need CC in order to use these files).
The content of the pack: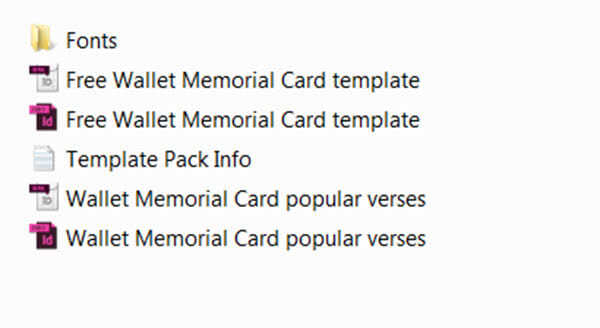 This template pack also contains all (open/free) the fonts used – but you will probably want to use some other fonts of your choice.
The template pack also contains 10 most popular verses that can be used on the back. Just copy and paste the selected verse into your design and you are done.