All prices include postage to Ireland, United Kingdom and EU. Matching envelopes included on all orders.

Quantity of Keyrings
10
20
30
40
50
75
100
Price

€59

€79

€8

9

€99

€119

€139

€159
Please contact us for Trade Prices. We offer competitive prices on print order fulfillment & dropshipping to Ireland, UK & European Union.
We also routinely fulfill orders for freelance graphic designers for whom memorial cards are not the main area of work.
Please also visit our memorial cards quality page to learn the details of our printing process. Please note that our prices have remained unchanged for the last 4 years.
Design Only Service (No Print)
Should you require just the design without printing your card with us – we will be happy to accommodate such request. This is equivalent to custom design, just without printing the cards with us. You will receive full resolution pdf file with your design – it can be then printed by any print company in the world as this format is an industry standard.
Please see design prices below. If you are ordering design of a memorial card, it counts as one item. Memorial + acknowledgement cards – two items etc. Please see here to find out more.
Please use live chat if you have any questions.
No. of items designed
1
2
3
4
Price

€49

€6

9

€79

€8

9
Why memorial cards cost what they cost – pricing explained
Some customers perceive memorial cards' prices as being quite high. A single card can cost more than one euro, even when you check out our own very competitive prices. Why is that?
This is not because you, the customer, are being ripped off. There is a number of factors that keep the prices where they are. By the way – our own prices have not changed for the last 5 years.
In a nutshell, memorial cards (and indeed other card types like memorial bookmarks or wallet cards too) are small but very labour intensive jobs. It takes a lot of good organization to make them profitable while keeping the prices realistic.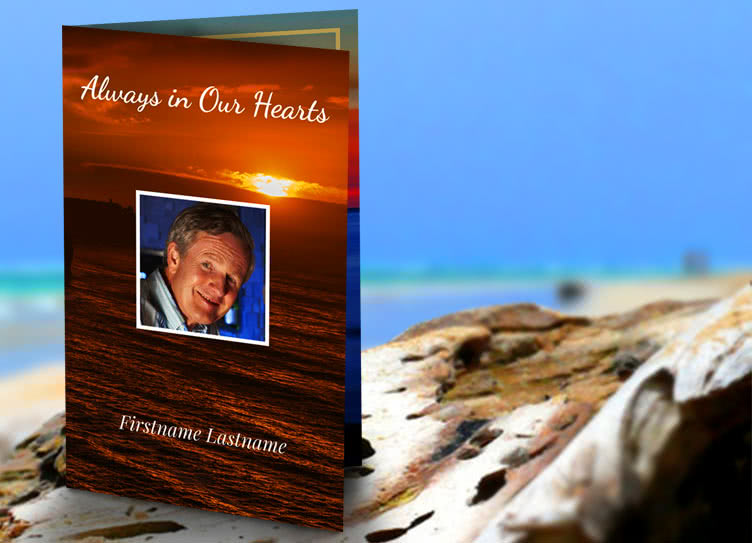 Here you can see the amount of steps required to produce memorial cards:
Order Taking
Graphic Design
Proofing
Print
Lamination
Cutting down to size
Creasing
Packaging & labeling
Dispatch
Each step requires man-hours and machinery. Employees have to be paid, machines have to be kept in good working order and up to date.
Below we discuss the main factors that influence the price:
Memorial cards are printed in small quantities.
Even with today's digital print technology small quantities are still expensive to print. Even larger – by memorial cards' standards – runs like 300 pieces and upwards would be considered small quantity in print industry.
Memorial cards are a personalized product
Even though certain template designs can be used, a designer is required to put your design together, enter text and photo, proof the card to you, make changes etc. This is a significant cost. Coupled with small print run it drives unit price up significantly. To design your memorial card takes the same amount of time regardless of the number of the cards printed.
We tried to lower the design and proofing cost by creating our online personalization system – you get roughly 50 euro off right away just by using it. We passed all the savings on to you. And do not feel bad by using our pre-defined memorial card designs. Our designers spent countless hours making them look good. Key elements like backgrounds and headings can be personalised in a way that gives you countless possible combinations and thus allow you to create a card that has a high degree of uniqueness.
They require 3 finishing operations
Apart from printing, memorial cards require 3 print finishing operations – lamination (gives them glossy plastic finish), cutting (to cut individual cards from multiple-up printer's sheet) and creasing (so they fold nicely and without breaking).
Each step takes man-hours – and this has to be reflected in price.
For example a poster requires just one finishing step – cutting down to size.
Memorial cards are laminated
Lamination is a tricky operation. I requires good equipment and more expensive digital-compatible plastic film. And even with very good, industrial machine it is quite slow and to make things even worse good machines usually laminate one side at time. Laminating machines also need to warm up before they can be operated – this adds time to the job, especially if laminator has to be switched on just for one urgent job.
If you compare our prices of memorial and acknowledgement cards you will see that acknowledgement cards are noticeably less expensive. This is nearly exclusively down to the fact they are not laminated.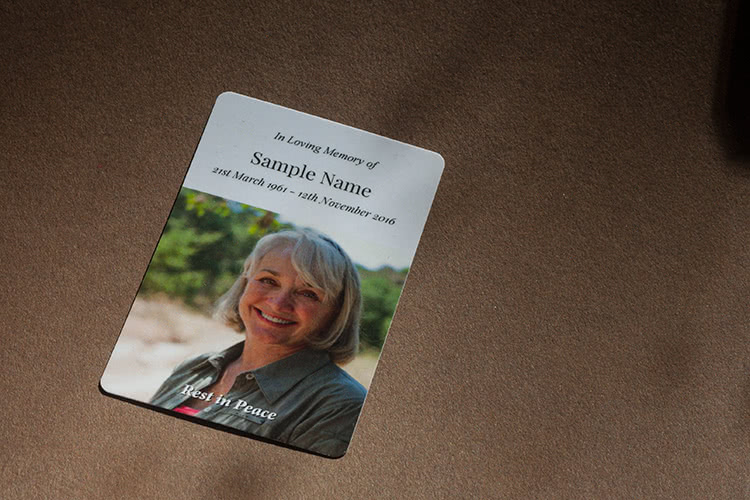 Delivery is expensive
– while we ourselves do not charge delivery directly in the cart, it is obvious that delivery cost has to be included in the overall price. Depending on quantity and memorial product type delivery cost can be as high as 20% of the whole order.
The cards have to be printed fast
Nowadays customers are not very patient. So – if you cannot deliver within a couple of days, somebody else will. Our system allows us to deliver at a speed that would be unthinkable just a few years ago. But – if you have a certain deadline, please do talk to us. We will either commit to a deadline and deliver or honestly say we cannot meet it.
Top-notch quality is required
– Memorial cards are a very personal product. The customers expect the highest quality. Cutting corners on this sort of product immediately results in high volume of quality related returns (see our returns policy). Not to mention that making silly savings on a tribute to somebody's life is just a bad thing to do.
As you can see what seems to be a quick job turns out to be a tedious and technical process involving many people. Seems we are taking a lot for granted and do not see the people and work behind the product that should be good, cheap and delivered promptly.