There is plenty of companies in Ireland who offer high quality in memoriam cards and other memorial prints. Competition in Irish printing industry is fierce at the moment, many companies went under in recent years and those who remain in business should be the strongest and the best.
While we should be considered small, there is a couple important points that make us stand out.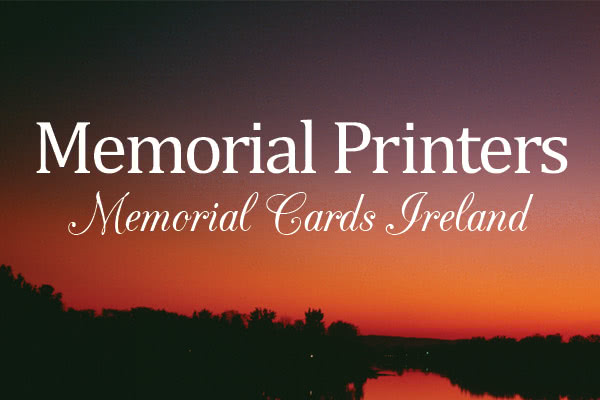 No price increase for the last 5 years
Unlike many others, we have not increased our prices over the last 4 years.
As a market research exercise, we have recently (Summer 2019) asked a few Irish trade print companies to quote memorial cards for us. Having high turnaround, we were expecting very good prices form them. But… most of them priced our jobs more than we charge our customers. The worst quote we received was 3 times what we would charge you.
Mind these were trade companies, supplying other print companies.
We can help you even if you do not order from us
We are the first company in Ireland to offer free downloadable designs of memorial and acknowledgement cards. If you want to save on the design or simply support your local printer – you can get high quality print ready file from us absolutely free. We actually invested our time and resources to make this possible.
We do this because we believe it will not hurt our bottom line. We believe in our products, quality and competitive prices. We believe that those who use our free facility have reasons other than considering our offer to be not suitable. Instead of posting some testimonials you cannot verify to be true, we give you a real choice. This is not very common in printing and in fact any other trade.
We have a very good online ordering system
We built our personalisation and ordering system ourselves, in-house. It is created exclusively for memorial stationery. The resulting solution is one of the most advanced in Ireland.
We give you a tool that allows you to be involved in creation of your cards. We make sure this tool is easy to use, gives you help and does not overwhelm you with technicalities.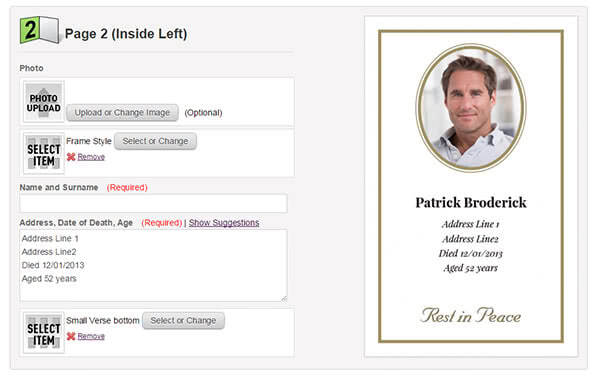 From our experience many customers spend a lot of time on our website trying different designs, different verses, background options. We give them opportunity to work on their cards in their own time and in their own home – or wherever they feel comfortable.
Our proofing system is very reliable. Each time you make a change it creates print ready file and then uses it to generate images you view online. This approach guarantees that what you see on your proof is what you will get when your job is printed.
We also understand that some customers will want to go beyond what our online ordering system offers. If your changes are small – a custom verse, some change in layout etc. – we will modify your customised design free of charge. A request for a custom verse is one of the most common. There is a special custom verse marker in our system, just choose it, add your custom verse on checkout and we will do the rest.
We offer custom design service as well
If you need a fully custom designed card – our designers will help you in a timely and professional manner. You are getting help from somebody who does a lot of memorial stationery work. This results in professional design and ability to understand your needs well.
We specialise in memorial prints
We do not print anything else but memorial cards, acknowledgement cards (thank you cards), bookmarks and similar products. We focus on a single range of product and we do it best. It gives us advantage over general printers who may be dealing with many different types of jobs. We have clear workflow in place that guarantees the highest quality. Our returns policy reflects our commitment to quality at every step.
Designed and printed in Ireland
All our work is done in Ireland. This includes our website development. We use An Post or DPD/UPS to deliver your order.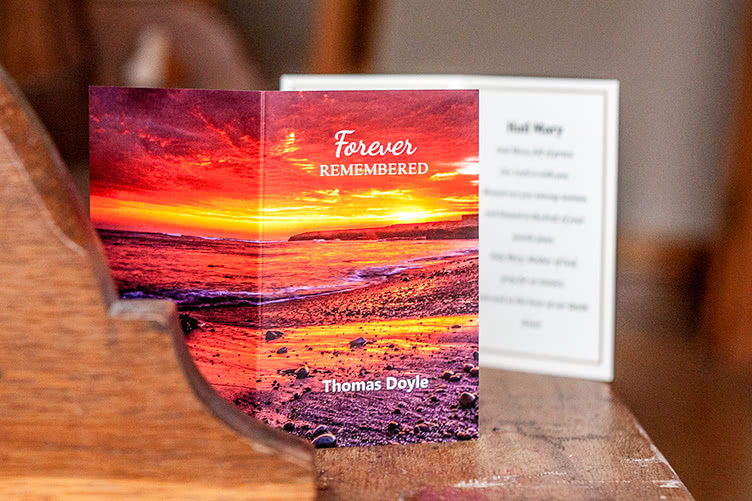 Competitive Pricing
We provide high quality product while keeping our prices low. This is possible mostly because we conduct our business exclusively online. We know that our customers would not save on the kind of products we offer. On the other hand there is no need to overpay – especially when the quality is right.
Free delivery and free envelopes
We do not charge extra for delivery and envelopes – we give it free on all orders. Whatever price you see online when adding your cards to cart is the final price you will pay. No surprises.
We do not force you to register
We offer fast checkout without registration. This means you do not need to remember another password or fill lengthy forms. All we require is delivery address. Once you check out your order gets processed without need to log in anywhere. If you need to contact us after you order you can simply reply to our order confirmation email. We try to keep things as simple as possible.
We are small enough to care
We understand that memorial cards are a personal product with strong emotions attached to it. We approach our customers' needs with patience and understanding. We work when you need us. We send proofs outside of standard office hours and during weekends. It is not uncommon to see us still available to provide online help well after midnight – both through email and our live chat facility. For us designing and printing memorial cards is a very rewarding work – you can find out why here.