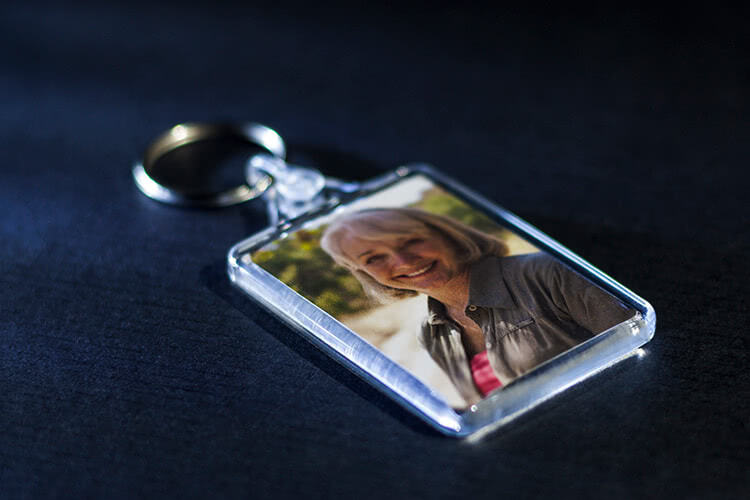 Memorial keyrings are a well-established and ubiquitous type of keepsake. They also are a very practical ones because we all use keys. Moreover, most of us use at least two sets of keys – home keys and car keys. Memorial keyrings can help you to make those keys easier to manage – and keep your memories as well.
To order your keyrings click the button below. You will be taken to shop page where you can add to cart, personalise your keyring, view instant online proof and order.
If you require more information, please read on.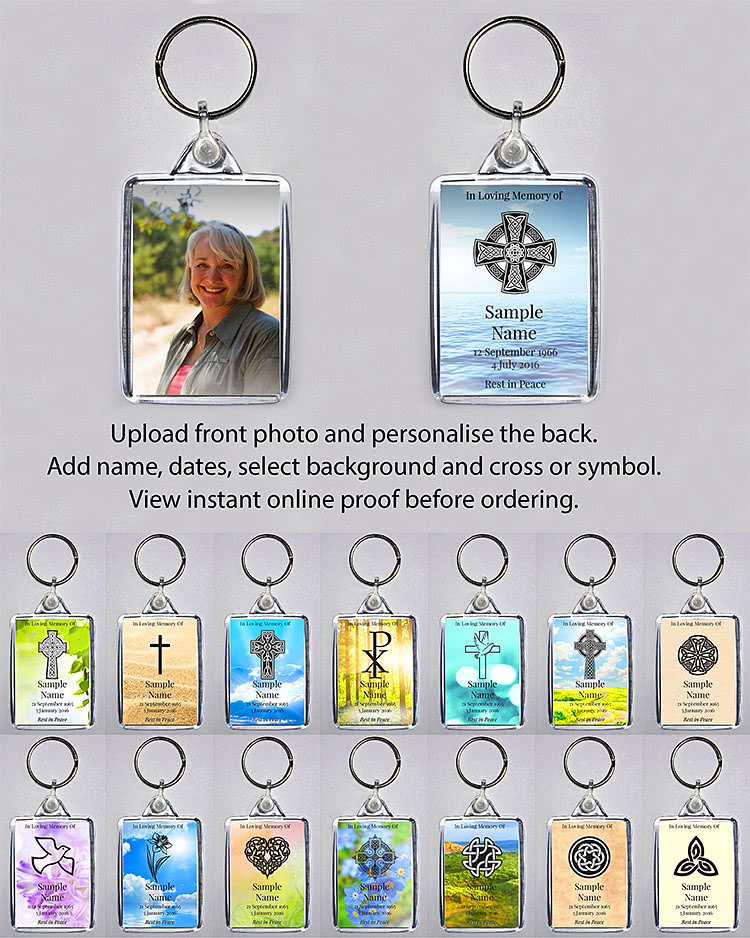 Memorial keyrings prices – personalised and ordered online
If you order your keyrings online through our personalisation system the prices are as follows:
Quantity of Keyrings
1
3
5
10
20
30
40
50
75
100
Price

 €12

 €20

 €25

 €59

 €79

 €8

9

 €99

 €119

 €139

 €159
Delivery to Ireland, UK and USA is free.
Custom designed memorial keyrings prices
If you require custom keyring design the prices are increased by €20 euro – this covers designers work. The prices of custom designed memorial keyrings are as follows:
| Quantity of Keyrings | 1 | 3 | 5 | 10 | 20 | 30 | 40 | 50 | 75 | 100 |
| --- | --- | --- | --- | --- | --- | --- | --- | --- | --- | --- |
| Price |  €32 |  €40 |  €45 |  €79 |  €99 |  €109 |  €119 |  €139 |  €159 |  €179 |
Delivery to Ireland, UK and USA is free.
To order custom designed keyrings please contact us through our contact page, we will get back with a few questions and start the design process.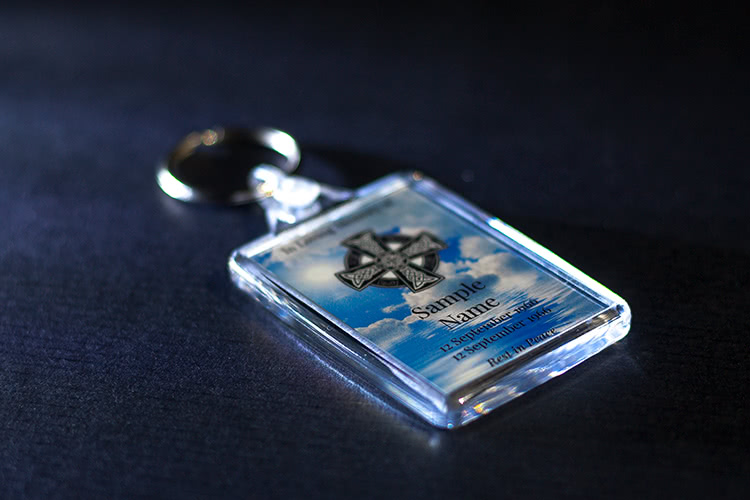 Memorial keyrings' dimensions, material and quality
Keyring dimensions excluding ring are: Length: 66mm, Width: 42mm x Depth: 6mm.
These dimensions are very similar to a box of matches. These dimensions make the keyring very comfortable to handle.
The printable area is 50×35 mm. It is just enough to fit similar amount of information as on a wallet memorial card, but without a verse (unless it is very short). Also, this size calls for a full page photo on one of the sides. The name and dates are perfectly legible on our designs despite of small available area.
The keyrings are made of clear acrylic. It is a high gloss durable material characterised by a high translucency. The nickel split ring is attached to the keyring by an elastic plastic clip. This prevents a common damage  – if the ring is attached directly to plastic can be quite easily broken.
The keyrings we use are manufactured in the United Kingdom and we are happy with their consistent quality.
Why you should order memorial keyrings
The nature of the keyrings we already own is usually rather random. We tend to get them at some stage, stick our keys on them and keep using them for years afterwards. They keyrings we have usually carry some promotional/marketing message. From our perspective this message is something completely meaningless.
So – it makes perfect sense to replace those keyrings with ones than actually have a meaning and emotional value. There is enough marketing noise in our lives anyway, let us replace at least this little bit with something of value.
Keyrings are a practical keepsake – they serve a real purpose.