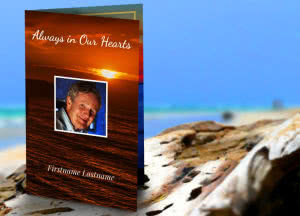 There are two main factors that make your memorial cards truly shine – quality of print and graphic design of the card. Those two factors put together have the biggest impact on the final product. It has to be said that in Ireland most of the companies around offer superb quality, both print and design-wise. If you strive for the ultimate quality though, this information may prove very helpful in achieving your goal.
Deciding to order memorial cards online or from your local printers is entirely up to you and will not have much impact on the finished product, as most of the outlets have their online presence anyway. Your convenience is the only factor you should consider when you making such decision.
Print Quality
Nowadays nearly all memorial cards printed in Ireland are done using digital print technology. Digital allows for high quality short print runs that are in par with (or even exceed) the quality of tried and reliable offset print technique (more about difference between offset and digital here).
Of course not all digital printing machines are made equal. Older machines have some technical flaws that are the most visible on the areas with high toner coverage. Large areas of uniform colour are a particular weak point of the older digital presses. The coverage may not be perfect and even. Memorial Cards are however too small for these flaws to be come a real problem.
To ensure best quality of the cards you need to be sure that your printer is up to date with the technology. Also, smaller presses tend to produce worse results.
Ideally your printer should use a big, industrial grade press rather than small photocopier-sized office machine.
One of the biggest problems with digitally printed memorial cards is cracking on the fold. Digital toner consists of small particles of plastic. Those particles are molten and stick to the paper in fuser – an oven-like device inside of the printing press.
This process produces a thin layer of plastic that cracks when folded. Hi-coated digital papers also contribute to this issue. The solution is to laminate the prints. A thin layer of film provides protection, shine and reduces cracking.
Most of folding memorial cards would be laminated – not only to give them better quality but also to alleviate the cracking problem.
Double-sided acknowledgement card are perfectly fine without lamination – there is no fold so no cracking can occur.
Lamination comes out best when done with large laminator – the temperature variation is smaller on a larger drum and also higher and more even pressure of those machines produce better quality results.
There were times when smaller shops used office grade laminating machines that produced cards of inferior quality.
Generally speaking you will get best results with shops that focus on memorial jobs and thus have a well organised workflow. Those are the ones that deal with a lot of memorial cards orders. Here you can read about our printing workflow if you wish.
Graphic Design
Quality of graphic design is subjective so the best way to select suitable designer is to see their previous work. There is only one way to tell the good design from bad one – trusting your own opinion. Design is made for non-designers and it either works or not. It should work without any requirements or knowledge on the side of the customer.
So – just trust yourself. If you feel you are not entirely happy – request changes go somewhere else. There is plenty of print shops offering memorial cards and you will find one that offers design that works for you.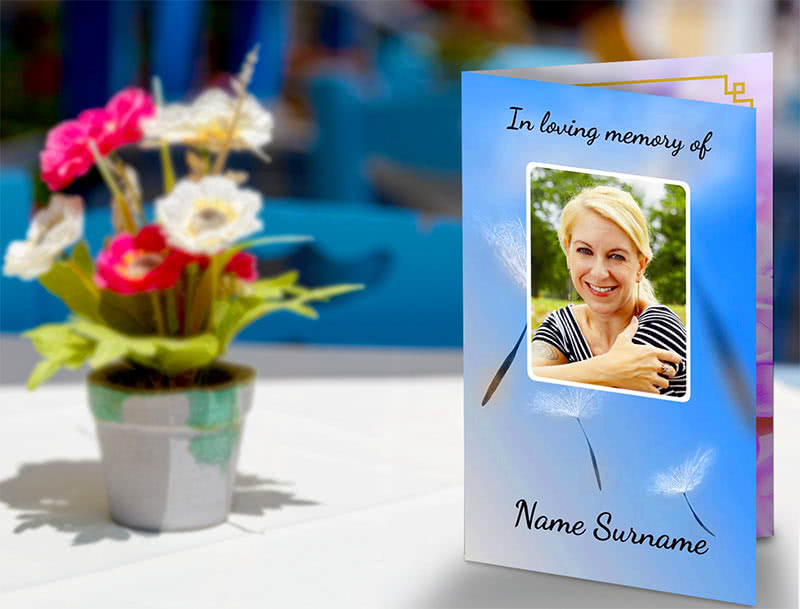 Some other points that are slightly less important but may be good to know
Quality of your photos and images
If you want to get memorial cards designed using your own images, make sure you have them in best available quality. If you have just prints, the design studio/printers will nearly always have better equipment than yourself to scan them in. If you have digital photos, supply them without any modifications, the bigger file size the better. If you have multiple images – show them all to the designer, he/she will help you to pick the most suitable one. If your images are of poor quality – do not worry, today's photo manipulating software can do miracles.
Stock imagery
Most of print companies will have access to stock photo libraries. These photos are of superb quality and can be used to design your card. Even if you need some very specific images they can be found – the stock image libraries offer huge number of photographs.
Freelancers
When creating a design you do not have to go with an established print company. There are numerous freelancers around that produce exceptional quality of design, you should not be afraid to use their services, especially if they can back their offering with a substantial portfolio of good designs. If they cover your print as well just make sure they use reputable trade print company.
Templates and stock designs
You should not be afraid to use them – they are tried and tested on numerous customers and usually well refined. There is nothing wrong with using them and they should not be consider a product of lower value. Usually a lot of effort is put into those templates and designers have time to polish them to the high standard.
Cost considerations
Graphic design can be very expensive. There are companies charging 60 euro and more per hour of desinger's work. This makes sense when the designer does commercial advertising job for a company, for memorial cards this may be an overkill. Before going with a company find out what is the final cost and if there are extra charges in case you require extra proofs and extra design time.
Sitting down with the designer while she/he is creating your memorial card design may not be available in every company and should be considered a luxury. Especially if you are not paying per hour this may be an opportunity to push the design further and get better product for the price of standard one. So when selecting a company to do your memorial cards you can simply ask if you will be allowed to accompany their designer while he/she is working on your job.
Final thoughts
All the above information applies to the hi end type of service. The price difference between full custom design in a design studio or print company and online order from a template will be substantial. Quality of print you will receive will be very good in both cases.
We hope this guide was helpful to you.