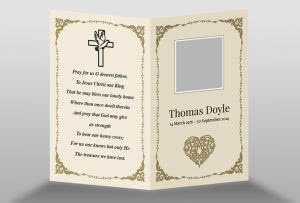 If you need to quickly design a memorial card you can download and use our free Memorial Card template (Adobe InDesign version 4 and upwards). The template pack contains simple memorial card design along with 7 types of frames and 10 verses.
You can download our template pack here:
Download Memorial Card Template Pack (5.3MB)
Hint – if you just need to get hi quality printable pdf of memorial card and do not have Adobe InDesign software, you can personalise and download one of our free designs here.
The frames and verses contained in the zip file will fit the design file if you use "paste in place" option in InDesign.
The files were created using CS6 but we also included idml files that allow you to open the design with CS4 and upwards. This means current cloud versions of InDesign will work with our download.
This template pack also contains the (open) free fonts used for in all the files.
The dimensions of the card are standard 72×115 mm. You are getting two versions of the design, single page one and spreads (144x115mm) so you can start designing in a way that suits your workflow.
The verses we included are likely the most commonly used ones, at least in Ireland. For more up to date top 10 memorial verses list go here.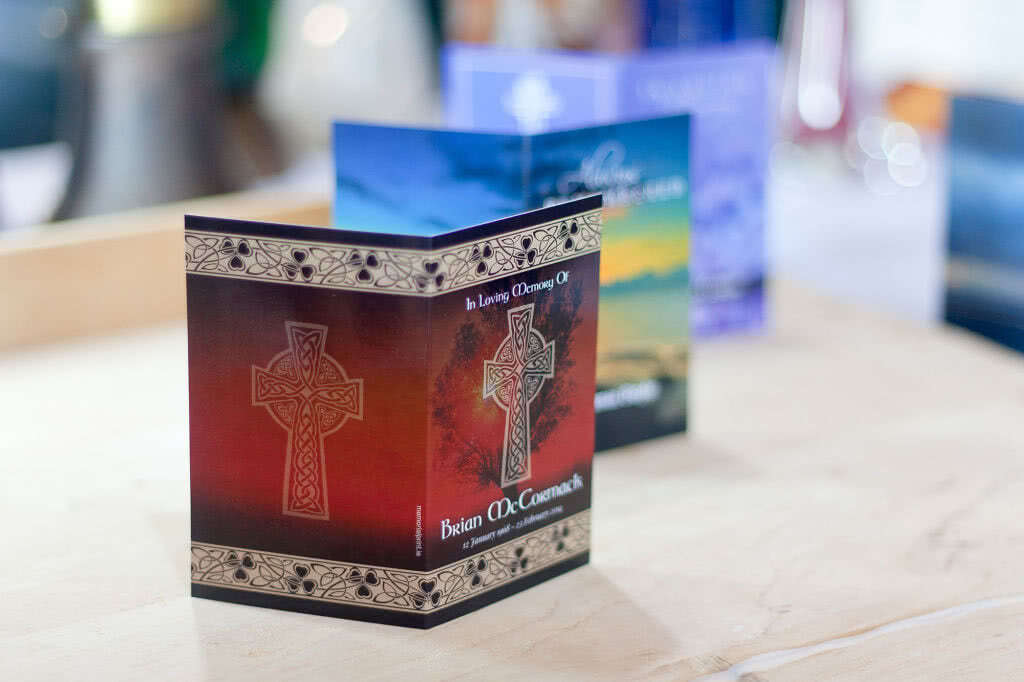 The templates have ready frames for your photos so all you have to do is insert the photos and adjust their size to fit the frames. If you have just one photo, you can use included Chi Rho (Christogram) symbol instead of a photo. The Chi Rho symbol is commonly used on memorial cards – we placed it on a separate layer so you can easily switch it on and off.
You can also just use a simple cross in place of the photo – this would be common on memorial cards too.
This template pack is aimed at designers working for general printers who may sometime have a need to quickly create a memorial card without knowing the specifics of this type of print. You can use it as a base of your own memorial card design.
It will save you time researching common memorial card design principles, common dimensions, layout etc.
We also have Acknowledgement Card template pack, you can download it here. Memorial bookmark template pack can be downloaded here.